Shellfish Growers Network helps oyster farmers produce more oysters in the Chesapeake Bay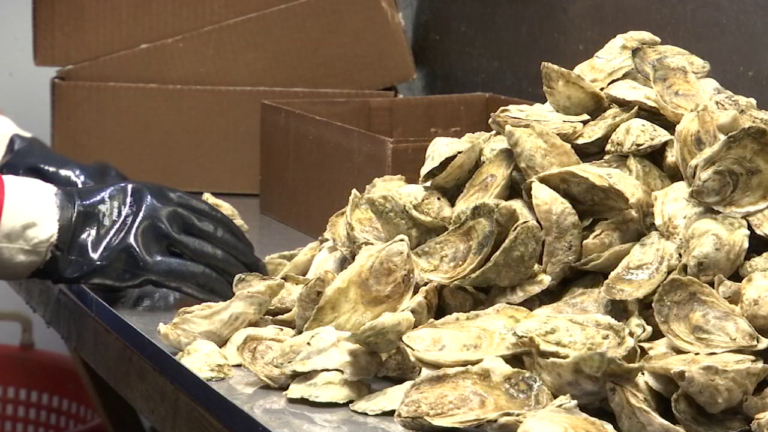 The Chesapeake Bay isn't what it used to be and it needs some help.
Right now, the oyster population is down about two percent from where it should be. We're told the last 40-50 years, it's been crashing through disease and over harvesting.
That's why the Chesapeake Bay Foundation (CBF) is reeling in some help to meet a goal: planting 10 billion oysters by 2025.
And that's where the Shellfish Growers Network comes in. "This is a great opportunity for these shellfish growers to learn from each other how to oyster farm, the tips and tricks to getting about it done in the water, what are the ways to get in product to market," Alan Girard, CBF Eastern Shore Director tells us.
The Shellfish Growers Network will help educate newer farmers. Madhouse Oysters, who's in the network says, they're ready to give some pearls of wisdom.
Owner Ted Cooney gives us one tip, "Knowing that every location that you farm oysters in is different. The bottom around this building is different than the bottom of another building. One clear difference would be the depth of the water. The area where you have your farm determines a lot of the processes and we can guide people in that."
Madhouse says they have plenty of tips to help growers be successful. We are told they have a great combination of skills and abilities. Beyond that, "When we need to have a piece of equipment, we try to make it ourselves, it saves a lot of money."
We're told the industry has shifted from wild harvest fishers to oyster farming, which means instead of going out and picking oysters, farmers are now planting oysters in a controlled environment. This has been quite a change for the industry.
This network will help anyone run through this new process. Besides that, the Chesapeake Bay Foundation hopes to grow oyster farming by 15% every year and hope that newcomers will join the network to continue growing the industry.