Organization gives away free backpacks/school supplies for families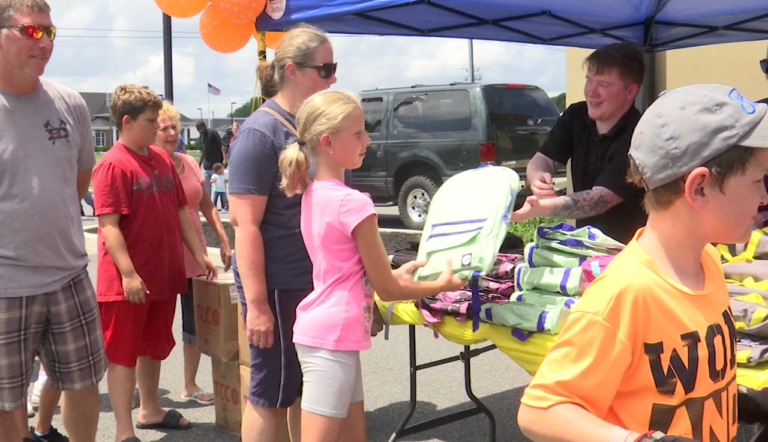 Dozens of families and eager little ones spent their Sunday morning anxiously waiting for the clock to strike one to get a free backpack filled with school supplies in preparation for the upcoming school year.
"I'm glad they're doing this. This is the first time that I've heard about this and I thought we would come out here and enjoy ourselves," said one parent Kathy Wilkerson.
Hosted by Verizon TCC, an organization that aims to help out their local communities, the annual School Rocks Backpack Giveaway event draws large crowds to the area every year looking to save some money by scoring some free school supplies.
"I think it's a good help for parents who can't afford to buy everything they need for their kids for school. I know a lot of other people that have more that it's a lot more expensive but even with one you know some parents still live paycheck to paycheck even with one child, so any little bit helps," said another parent Beth McGee.
Now in its sixth year organizers say events like this are crucial for families in low-income areas.
"A town like Millsboro has an average population of eight thousand with a 20% poverty rate so we know that's quite a few hundred kids that are going to need these supplies.There's a lot of bullying going on with kids that aren't able to get cool sneakers or nice pants or shirts or anything so anything that will help the parent out will help out on a greater cause as well," said store manager Jim Unsworth.
And when kids opened their bags on Sunday they found some special items inside.
"A ruler, a crayon box, a notepad and some paper," said Ryleigh McGee
Event organizers say they're proud to be apart of a company that changes lives for the better.
"I can go make a living anywhere, I can go get a paycheck anywhere but doing it here is going to be a lot different because I'm able to do it with a bigger cause being able to help people out," said Unsworth.
If you missed out on Saturday's giveaway don't worry, the organization says they'll be holding several other events for the community over the next couple of months.