Del. DOC youth academy gives teens a look at life as a correctional officer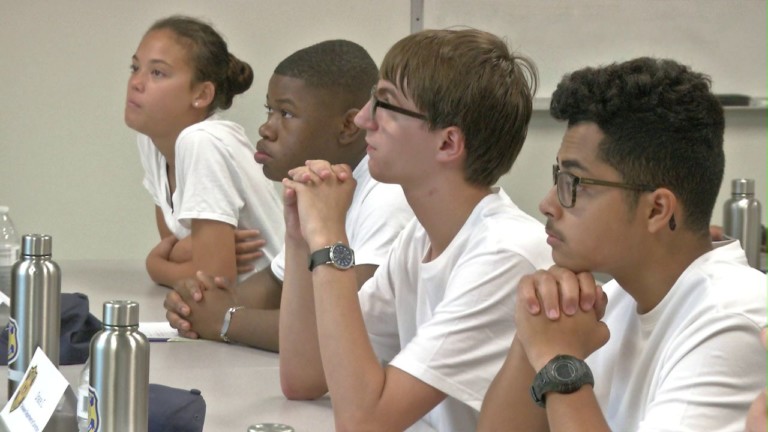 In Delaware, the Department of Corrections is on a mission, that's to prepare the next generation of correctional officers.
It's no secret that the agency has been struggling to recruit and retain officers. However a new three day program hopes to tap into younger talent and spark their interest in the field, it's called the DOC Youth Academy.
"I think this is one way we can bring students into corrections," says Captain Harold Mack, a DOC Instructor.
"We're covering a lot of defensive tactics, team building, communication," says Staff Lieutenant Matthew Hopp, an educator at the DOC.
A tough job that DOC instructors say they do not sugar coat.
"Inside the prison you never know what will happen, and we want to be prepared in any situation that could come up," says Staff Lt. Hopp.
During the academy they learn how to detect contraband, use gear and equipment to respond to emergencies in the prison, but also learn how to communicate with prisoners.
"One, how to teach people how to treat other people like human beings, and that people will make mistakes and they can repent their mistakes and become better people,"
A challenge that many of these cadets are ready to take.
"What made me want to join id to get an inside look of corrections and see how everything works, and I can potentially use this as a future career following as my father's footsteps who is at James T Vaughn," says John Goldman, a cadet in the academy.
"Even though it's just three days we hope we have them the basic skill sets so when they come back to the academy they'll have a leg up and be the future leaders of this organization," says Staff Lt. Hopp.
The last day of the academy is Thursday, and the cadets will be having a graduation to celebrate the completion of the program. While it's not official yet, the DOC says they hope to offer incentives such as priority placement in the department if cadets return as employees.