Corrections department launches eastern shore recruiting blitz for CO's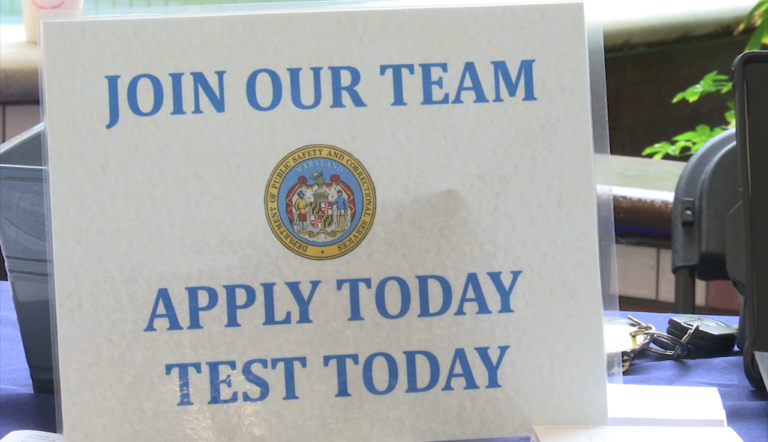 It's a video that's been played over and over, educating anyone who stops to watch it about the many benefits of becoming a correctional officer.
"We're out here educating, we're educating as much as we possibly can about what we do, who we are," said Captain Renee Bydume Liddell.
The lack of C-O's across the state, but especially here on the Eastern Shore has been an issue for a while now. After the most recent protest regarding staffing issues at the Eastern Correctional Institution in Westover, officials have launched a recruiting blitz to higher the best and the brightest to join the department.
"We're a little short staffed at the Eastern Correctional Institute, just south of Salisbury and our goal is to add to the 36 people we already have in the pipeline that we're processing. We're trying to get up to 60 more people so that we can be better staffed," said Department of Public Safety and Correctional Services Stephen Moyer.
The three day effort, that began on Tuesday, allows candidates to apply and complete the entry-level CO test on the same day. Making the hiring process go a lot smoother while also getting new recruits on board as quickly as possible.
"This is not just a job, this is a 20 year career, we want good people to come here and be apart of our team," said Moyer.
Some incentives are also being offered for those interested in applying.
"If we hire you and you get through our six week academy you get a $3,000 bonus check. If you stay with us for a whole year you get an additional $2,000 said Moyer.
But most of all officials say they want people to have the opportunity to give back to their community.
"If you even think that this is something that you want to do, give it a chance, take the opportunity," said Liddel.
If you weren't able to make it to the recruiting event on Wednesday, you've got one more day. The next event will be held tomorrow at the Chesapeake Community College from 9 AM to 1PM.