Somerset County focuses on getting more students ready to learn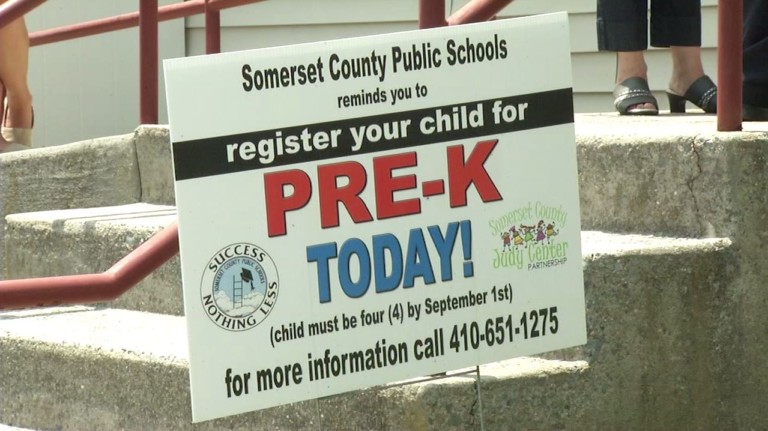 "57 percent of students who are coming into our kindergarten are ready to learn. We need it to be more than that," exclaims Karen Karten, Somerset County Public Schools Early Childhood Coordinator
A number can't tell the full story, but 57 percent is enough to mobilize and in this case, it was enough for Somerset County Public Schools to implement full day Pre-K services, even added curriculum in problem areas like math and literacy.
Karten explains, "By focusing on areas we know we need to focus on, we are able to hopefully bring those scores up. So in the areas of language and literacy we have a new reading curriculum that we're implementing this year."
That focus has led to an updated full day Pre-K curriculum that would not have been possible without Pre-K expansion grants from both the state of Maryland and federal government.
"It helps us, it helps the school system, it helps the children because it helps them get what they need. Before we started, this county was low in math and reading with these children coming into school," says Children of Destiny Child Care Director Shirrell Robinson.
For the past three years, Somerset County has received over $220,000 to expand their Pre-K services and they'll continue to get those funds this year.
"That money really helps so we can provide professional development. It makes it so we can provide all the needed materials for our students. Many of our students don't have the technology many other students in the state have, so we're able to purchase some technology."
Somerset County is now providing universal Pre-K classes to 89 percent of four-year-olds in their area. It's a big win not only for soon-to-be students but parents too.
"A lot of parents they don't have time. They work to provide for the children so they don't have time to be like okay we're going to sit down and do this, we're going to sit down and do that," says Robinson.
And now that summer vacation is in full swing, Somerset County schools are trying to get rid of that summer slide, when students lose some skills after the break.
So they're offering a free 5-week summer program for fun learning in Crisfield and Princess Anne, although limited space is available.
But Somerset County isn't just increasing Pre-K services, the Judy Center is also expanding, again thanks to grant funding.
The Judy Center partnership now serves birth through kindergarten students in both Crisfield and Princess Anne.
It's designed to get children more ready to learn by the time they enter the school system. The Center provides resources like Play Dates, where they take families on a field trip somewhere.
Even programs with the library to make the families and students more comfortable with the whole learning process.
"It's teaching parents that math is important, that reading is important. Even if they only have an infant you can by providing books and information, giving them contact information of helpful resources in the community," explains Karten.