Protesters rally in Dover for the 'Families Belong Together' movement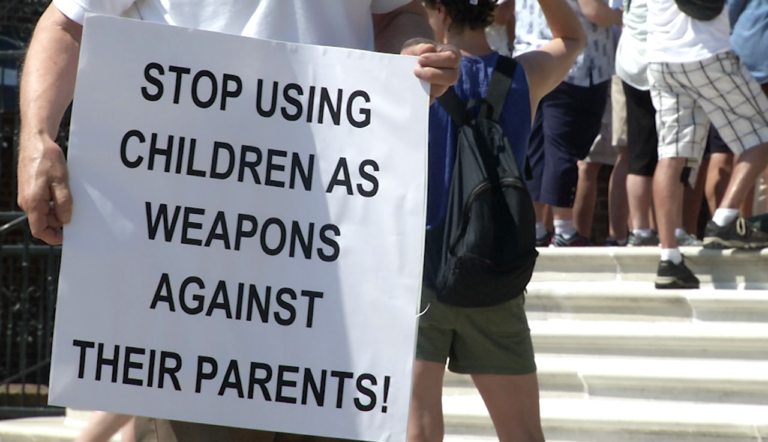 "We want our legislators to know that this is important, change needs to happen," said communications manager for the ACLU Morgan Keller.
Coast to coast to right here in Dover crowds gathered to protest President Donald Trump's immigration policies with a Families Belong Together March demanding change.
"We want Governor Carney to understand that he needs to protect Delaware's immigrants. If the state doesn't listen to us, then we will continue to take action," said Keller.
The protest comes nearly two months after the Trump administration executed it's zero tolerance policy toward undocumented immigrants causing thousands of children to be separated from their parents.
"Families are the core of any society. Mothers and kids are coming here seeking asylum on a refugee basis. It's a human right," said protester Erika Guiterrez.
Event organizers took to the steps of legislative hall to demand action from Delaware legislators to step up and and put an end to the administration's policy.
"We're showing up in force, we're showing up in force here, they're showing up in force in Wilmington, and this isn't going to go away and if the legislators don't pay attention, to what is going on, then we will remember that in November," said Keller.
"They need to know where we stand and what we want. We want to work together with them. We don't feel like we're enemies we actually think that we can come together and do the right thing in every issue that we are facing as a state and as a country," said Guiterrez.
And protesters say they'll do whatever it takes to make sure the separation of families never happens again.
"It is abhorrent that the government would treat any human being in the way that they are. And this isn't the first time it's happened, but we're going to make sure that it is the last time," said Keller.
Protesters also tell 47 that the current legislation not only affects immigrants, but it affects their democracy as well.