Lack of H-2B visa workers affecting crab picking houses in Maryland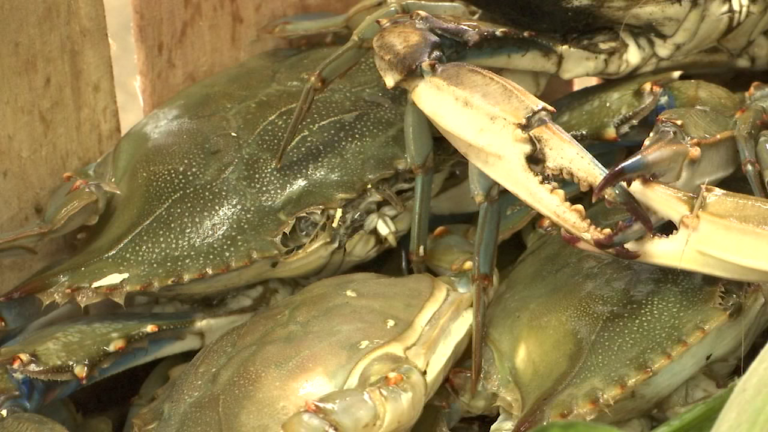 Crab picking houses are struggling after U.S. immigration officials approved additional work visas for just one picking house, leaving local businesses with more work and less hands going forward.
Lindy's Seafood, just like many others, is working harder than ever, after getting the short end of the stick.
Currently, Lindy's Seafood has their American staff but they're missing about 100 helping hands. Their American staff is working extra hours and we're told they are doing their best to prove the same service to customers.
Michael Woodland, Lindy's Seafood Mechanic says, "Everybody is working like a shift and a half every day. It's hard for people to do this job, let alone pick crabs. And then you got drivers, our drivers are just holding on."
But it's not just affecting businesses, it's also hurting crab lovers.
"Well what's happening is that everyone's working so much overtime just to try and get orders filled since they don't have the staff that they need. So, yeah unfortunately it drives the price up," Aubrey Vincent, the Vice President of Lindy's Seafood, tells us.
Besides that, watermen aren't going to be able to work with the same frequency.
Expenses are the same but the amount they are bringing in isn't.
Until a change happens, Lindy's Seafood is going to continue to reach out to legislators, so this never happens again.
"We're also just doing our best to educate the people that come into our retail, our customers, the community about what this program does and what it's all about because there's a lot of misinformation out there and that's what we're really doing and trying to stay positive," Vincent says.
Governor Hogan along with Congressman Andy Harris know how hard these businesses are struggling.
They've been urging the federal government to restore the availability for H-2B visas for Marylanders.
But their latest push, may add some relief.
The Board of Public Works approved an initiative to provide funding for a seafood marketing program.
It adds almost $400,000 to market Maryland blue crabs.
It's aimed to help businesses who lost income by the H-2b visa program.
The Department of Agriculture will develop this campaign to encourage more sales and increase market opportunities.
We're told unless there's another release for H-2-b visas, the next application day to get more is October 1, 2018, which is the end of their season.