New mats provide better access to Rehoboth Beach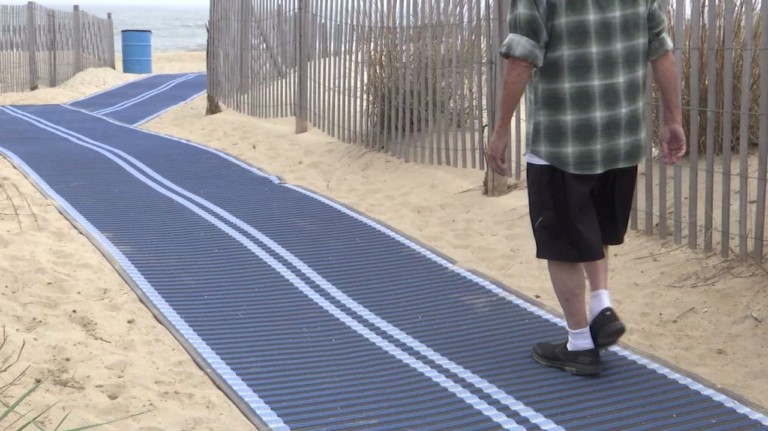 Getting to the sandy beach just got a whole lot easier for everyone in Rehoboth Beach now that the city has installed Mobi-Mats at some select beach access points.
"These are Mobi-Mats, they're light easy to remove in a storm, they are easy to put on the sand and they're made out of rubber and they also allow more visitors the access and opportunity to our pristine beaches," explains Rehoboth Beach Commissioner Kathy McGuiness.
Rehoboth Beach now has two locations where they've installed the Mobi-Mats.
Mats that Laura Howard from Delaware's Divisions of Services for Aging and Adults with Physical Disabilities says is a huge step forward to better provide access for those who may have mobility challenges.
Howard says, "Having the ability to get to the beach allows them to spend time with friends and families just like we all want to, so I think it's a great opportunity for them. Even those with strollers or other mobility issues maybe canes or walkers, the Mobi-Mats can really help them take advantage of all of those great things."
Better access is the goal for any city but an increasing challenge for Delaware. The state is expecting nearly double the amount of people over the age of 60 moving to Delaware by 2030.
That's why strides made like these Mobi-Mats to accommodate the growing older population is something Howard says towns should be planning for.
"We have to be aware of some of those issues and recognize what we can do to reduce any barriers to their accessibility."
It also serves as a selling point for tourists thinking about vacationing at Delaware beaches.
McGuiness adding, "When people find out that a beach has a street end with one of these mats, this is where they'll start coming to the beach and you'll see neighboring communities look into this opportunity as well."
Rehoboth Beach was able to install the Mobi-Mats thanks to grant money from the Community Transportation Fund. It's a grant that McGuiness has already filled out for next year in hopes of getting mats at every beach access points.
We're told Dewey Beach is also looking to install Mobi-Mats as well.