Gov. John Carney signs the Beau Biden Violence Prevention Act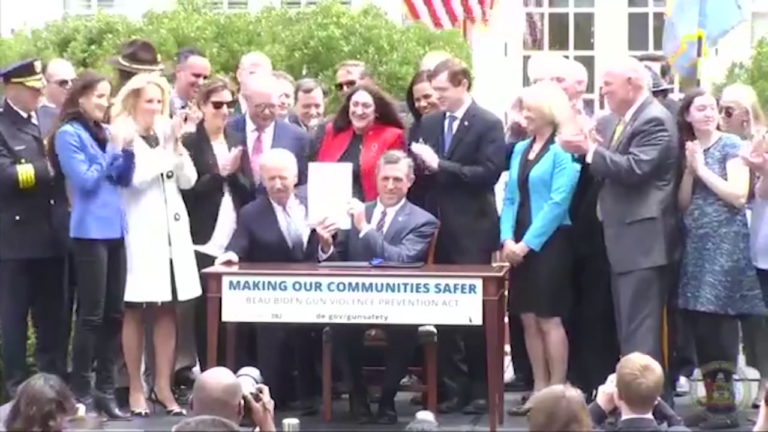 Governor John Carney was joined by Former Vice President Joe Biden at the University of Delaware to sign the Beau Biden Gun Violence Prevention Act, Monday.
Joe's wife, Jill and daughter Ashley were also there along with Representative David Bentz.
The new law will allow law-enforcement to search and seize firearms from people that mental health professionals deem to be dangerous to themselves and others.
The legislation passed the Delaware general assembly last week and this all comes nearly three years after Beau Biden's death from brain cancer.
A similar bill was introduced in 2013 when Beau Biden was Delaware's Attorney General but that bill failed in the state senate.
Today Joe Biden spoke on his son's legacy:
"Beau continues to cast a long shadow on the Biden family and hopefully on the things he cared about that will continue to be worked on"
The new law prohibits the following people from owning a firearm in Delaware:
Any person who has been committed to a hospital for treatment of a mental condition; perpetrators of violent crimes who have been found: not guilty by reason of insanity, guilty but mentally ill or mentally incompetent to stand trial.
Governor John Carney released a statement today saying:
"I am honored to sign this legislation, and to help carry on Beau's legacy and his commitment to protecting Delawareans."
The law, which takes effect in six months also allows affected individuals to appeal to the Supreme Court and petition to have their firearms returned.