Thousands of dollars raised during traditional relay event at SU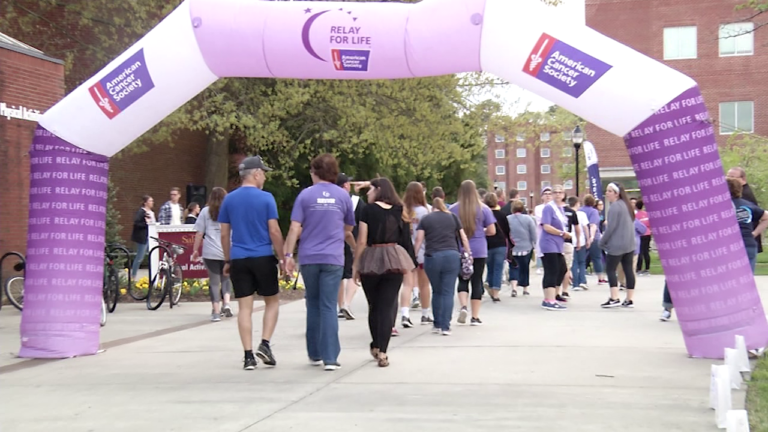 Salisbury University was host to an overnight campus tradition to help pump much needed funding into local cancer research. It's an emotional night every year, a night complete with ceremonies for those who are now cancer-free, those still fighting and remembering those who are no longer with us.
Seventeen years, $1.5 million and counting for Relay for Life at Salisbury University. Over 1,200 participants join with cancer survivors to raise funds for cancer research. Even before the event kicked off Friday evening the school had raised $66,000 throughout the year.
"All the way up through the year, the school year leading up to the event we're raising money through asking for donations through emails, text messages, family members," said Mary Holden, co-executive director for the event.
And they hope to cross the $100,000 mark before the tents are packed up at 6 in the morning on Saturday.
This is Sydney Currie's first relay at Salisbury, but relay has been a mainstay in her life for the better part of a decade.
"I grew up around relay for life, I was a team captain starting back in Middle School, so although I'm a rookie here, I'm not such a rookie for relay."
She says the event hits close to home, as she helps to raise funds in the memory of her late uncle.
"Relay means so much to me and my family because of my Uncle passing away from cancer. It really took a toll on us, but doing relay I feel like I really give back to it."
The event takes a breather for the survivor walk. For Kay Downey, a survivor of Hodgkin's Lymphoma, this is a platform for her to help others through their battle.
"It's been a big help to me since there's no support group for Hodgkin's Lymphoma in the area. So it was a big help to me."
It's also a platform for Downey to raise awareness of the lack of resources in the area for Hodgkin's Lymphoma patients.
"There's a lot of people who don't know what Hodgkin's Lymphoma is, I'm telling them what I went through and what it was for me."