Senator Tim Kaine meets with local leaders to hear concerns regarding offshore drilling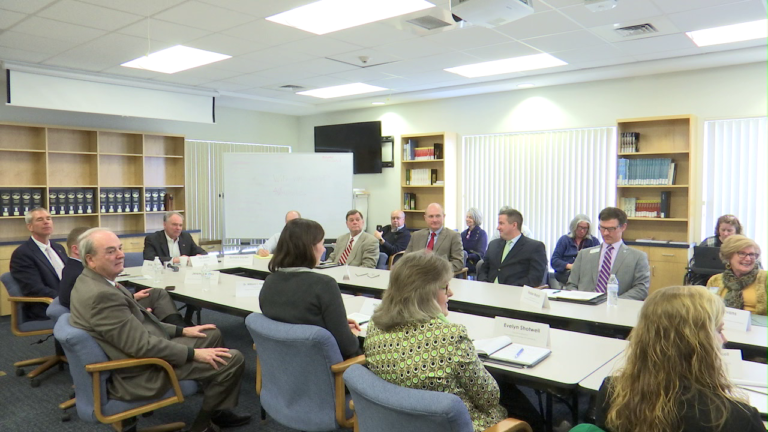 Local leaders in Accomack County met with Virginia Senator Tim Kaine (D) to discuss a hot topic on Monday, offshore drilling.
The Trump administration has said they would be open to drilling off the Atlantic coast, but most of the states that would be affected have already expressed opposition.
The first of several public comment periods has come and gone, and the next proposal and public hearing is expected to take place before the end of the year.
In the mean time, Senator Tim Kaine wants to hear from those who would be directly affected by offshore drilling so he can bring their concerns back to the White House. This was the inspiration behind Monday's roundtable discussion.
The consensus from the discussion was that offshore drilling would spell trouble for Virginia.
Senator Kaine said, "Whether it's the effect on aquaculture, tourism, the NASA Wallops operation, defense operation, marine research that's happening here, the sentiment around the room including the citizens that came to the meeting was very much we shouldn't be looking at offshore drilling in Virginia."
Officials say when it comes to something that would drastically impact the economy, you have to compare the costs to the benefits.
Robert Crockett, the Chairman of Accomack County's Board of Supervisors said, "As with any issue you need to weigh risk versus reward and in this case with offshore drilling, risks are major."
One of the biggest concerns expressed at the meeting was the chance of an oil spill and the effect it would have on Virginia's shoreline.
Crockett said, "If we had an oil spill that affected Assateague Beach, that would shut down a large part of Chincoteague's tourism, which is a major economic driver for Accomack County."
Another concern was in regards to the NASA Wallops Flight Facility.
Representatives say offshore drilling would significantly impact their operations.
Jeremy Eggers, the Chief of the Office of Communications at NASA Wallops said, "When we launch our rockets, there's nothing out there. We make sure that area is clear before we launch and should there be more assets located out over the ocean, that has to play into our safety calculations."
Not only that, but locals told Senator Tim Kaine that offshore drilling would hurt aquaculture, a major industry in Accomack County.
Senator Kaine said, "The Virginia aquaculture industry has just been coming on strong. Virginia oysters are now really kind of a premiere brand name around the country, and we now lead the nation in hard clam production which is pretty special, but you put that at risk."
A new proposal is expected to presented between August and the end of the year.
Senator Kaine says he does not know if Virginia will still be on the proposal, but if it is, there will be a second public comment period followed by a final proposal with one more comment period.
This means there would still be a significant comment opportunity for people to weigh in.