Family sues Notre Dame, warns parents of dangers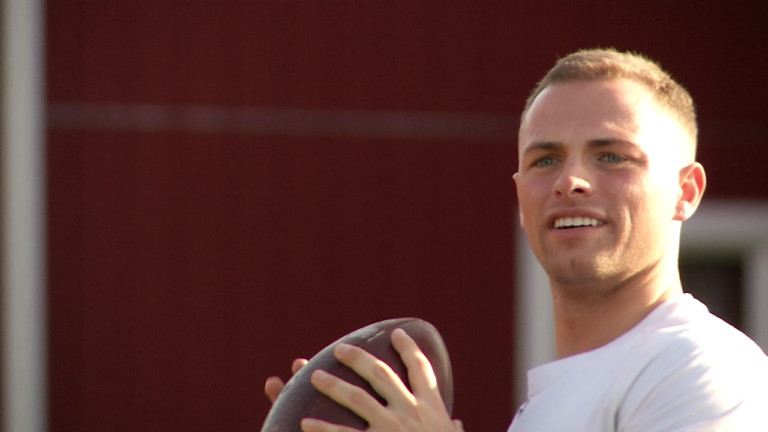 A lawsuit, an injury, and a warning. 47 ABC has a story you won't see anywhere else. It's the story of a Saint Michael's family, their battle with Notre Dame, and their desire to help others. It's the story of John-Vincent Louis.
He flashes a smile, he flicks his wrist, and for just a moment the world stops. His soul is at peace. But it's only a moment, seconds removed from an uncertain future.
"I've been going down a really difficult path. I've had to be admitted into a psychiatric hospital, I'm still continuing to receive therapy, I'm on several antidepressant, anti-anxiety medications and I struggle with depression on a daily basis," said John-Vincent Louis.
John-Vincent Louis wasn't supposed to be here, lost in the quiet of his mind, trapped behind the walls of his family's Saint Michael's home. He was supposed to be pursuing his dreams, chasing down wide recievers, and leaping for interceptions. But fate had other plans. In the summer of 2013, at a Notre Dame football camp, the then 17-year-old's career came to an end.
"I was happy to be at Notre Dame playing football for the coaches, getting compliments getting questions. I just remember all of a sudden I just felt the ground underneath me give out and I slipped and I came right down on my knee."
His PCL was torn. And although he didn't know it, John-Vincent's knee would never be the same and his mind would never be the same.
"Nobody really wants to live with, what if. What if I hadn't gotten hurt, could I have gotten that scholarship? Would I have been at a different school? Would I have had a job already? I just have to live with the what if every single day."
But his physical struggle, the surgery, the recovery, his injury-plagued senior season at Blair Academy, are only a part of the story.
"It wasn't what they advertised. They advertised the big beautiful field they were going to come play on it and they arrive and it's like pit city," said Michelle Louis, John-Vincent's mother.
For more than four years now John-Vincent, his mother Michelle, and the entire Louis' family have been locked in a legal battle with one of the country's largest catholic institutions. A University who designed a camp to advance a high school athletes skills, but only managed to bring this family heartache.
"I don't know any parent that doesn't know Notre Dame that would've thought their children were in good hands especially under those kind of circumstances," said Michelle.
The lawsuit, even a recent summary judgment that ruled in their favor, highlight the poor playing service John-Vincent and others were on. In addition to the questionable actions of the adults tasked with caring for the young men at the football camp.
"Just because you sign that waiver, that doesn't mean that gives them permission to new grossly neglect your child," said Michelle.
At issue is the response of those adults, who allegedly left John-Vincent suffering on a dorm room floor for hours, before they helped or gave him permission to seek medical attention.
"It's horrible because you want, as a mother, you always want your child if they were injured taken care of."
Aside from the compensation they are fighting for, and the apology that John-Vincent feels he is owed, it is the family's hope that others learn from their misfortune.
"There's a lot of kids out there who have some other dreams like me and I want to make sure that they are protected as well, they are taken care of and have a better shot at achieving their goals," said John-Vincent.
The Louis' family says it's important that families look into the programs, facilities, and organizations tasked with monitoring their children over the summer months. And, if possible, Michelle suggests moms and dads do some digging or go in-person because a flyer, website, or brochure can be deceiving.
"I mean the message is just be really aware because if this can happen at Notre Dame it could happen anywhere."
John-Vincent says he has received threats and disgusting messages on Facebook, since news of the family's lawsuit was made public. He tells 47 ABC that it has contributed to his depression. But he is hopeful that a resolution in this case will be the thing he needs to put the past behind him and move forward.
47 ABC did reach out to Notre Dame for comment and a spokesman replied saying, "We have no comment on what is pending litigation."