Delmarva Star: Calling all local singers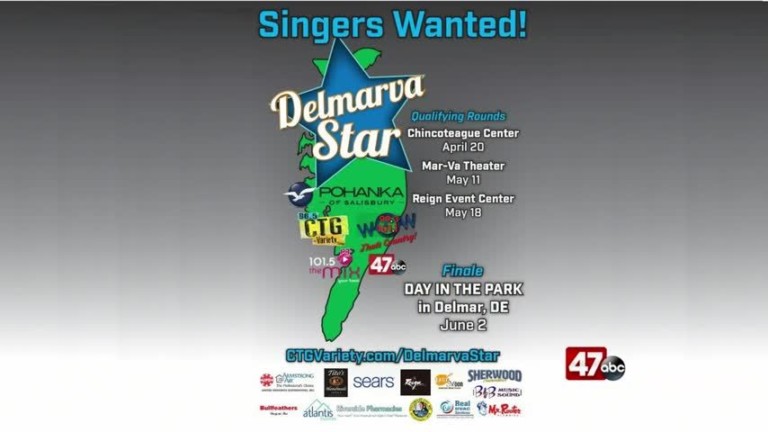 DJ Rusty Griswald from 96.5 stopped by 47 ABC to talk about Delmarva Star competition.
96.5 CTG/ WOW 101.1 & 99.3 / 101.5 The Mix are looking for the next Delmarva Star! Contestants will have the opportunity to audition at one of three qualifying events with the chance to move on to the finals in June.
The winner will receive a prize pack including a spot at this year's Delaware State Fair, the opportunity to sing the national anthem at a Delmarva Shorebirds game, a professional recording session, and professional photography session.
There will be 20 contestants at each of the three qualifying rounds. Then narrow it down to the finalists.
Locations will be The Chincoteague Community Center, the Marva Theatre in Pocomoke and Reign Event Center. The finals will be at Delmar Day in the Park on June 2.
This is how it all works:
Contestants will be given two minutes to perform the song of their choice a cappella. They will then be scored by our panel of judges with the top 5 advancing to the finale in June.
Contest Rules:
Who can compete: You must be at least thirteen (13) years of age by April 15, 2018. You must be a resident of Maryland, Delaware or Virginia with valid proof of residency. All applicants who meet this criteria, including all persons significantly older than thirteen (13) years of age, are welcome and encouraged to apply to be a participant. All applicants younger than eighteen (18) years of age must have a parent/legal guardian complete the online registration and show proof of local residency. All contestants 18 years of age or older must have a parent or legal guardian present at the preliminary events and finale. Previous winners of Delmarva Star or Delmarva Voice contests are not eligible to participate. Each contestant is counted as a separate entry. Individuals may perform together but they will be judged separately. You are not eligible to participate if you are currently signed to a record label or recording contract.
Registration: All contestants must submit an online entry form. Only one person can perform per application form. Register online at CTGVariety.com/Delmarva Star, WOWThatsCountry.com/Delmarva Star or 1015theMix.com/Delmarva Star. Registration is limited to the first 20 qualified entries per venue. Pictures and demos are required. GSB Media, Inc. reserves the right to disqualify applicants that do not meet eligibility.