Delmarva Safety Association hosts active shooter simulation at 40th annual Safety Conference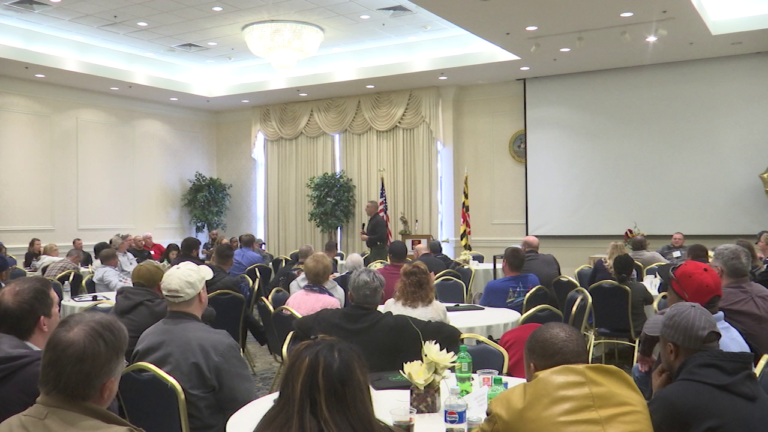 The Delmarva Safety Association held their 40th annual Safety and Health Conference at the Clarion Hotel in Ocean City on both Monday and Tuesday, but this year's conference had a bit of a twist.
This year, organizers wanted to put attendee's knowledge to the test by hosting a hair-raising active shooter simulation.
Michael LeCompte, one of the conference's organizers said, "When something does occur, what we're trying to do is train them proactively to try to react the right way."
On the first day of the conference, speakers covered the basics.
Lieutenant Keith Runk with the Maryland State Police's Special Operations Division said, "We talked to them about first aid, reunification, surviving the incident, whats going to happen, how long it is going to take, so we try to cover a lot of the critical post incident issues."
On the second day, speakers wanted to put attendee's knowledge to the test.
Lt. Runk said, "So we planned the surprise attack as it will occur in real life."
Organizers chose people ahead of time to act as the "shooters" and when the time came, they shot up out of their seats and began "pretend" firing at people in the room. People in the audience didn't react very fast.
"You had a lot of people that just got up and started to move you had a lot of people that froze and I take that and try to put in that hey, you need this preplanning, this should prove why," Lieutenant Runk said. "Any time that you waste acting whether tis running hiding or fighting favors a suspect."
Organizers hope the conference's attendee's will take the lessons they learned and bring them back to both their work place and their families.
Jennifer Taylor, the Associate Professor of Environmental and Occupational Health at the Drexel University School of Public Health said, "What we learn at work, the things that we do to keep ourselves safe can actually translate to our families and our communities."
Next year's conference is already being planned. They say registration will open in the fall.
If you're interested in learning more, you can visit DelmarvaSafety.org
Organizers covered more than just active shooter preparation at the conference, they also had officials come in to speak about the opioid epidemic.
Officials educated the audience on the signs and symptoms that someone may be under the influence of an opiate, as well as how to safely respond to an opioid overdose.
They say a lot of people are not able to tell the difference between the different types of overdose reactions, so it is important to get educated.
Paul Sullivan,a Paramedic Firefighter said, "We need to understand that there is a problem first, so we had a lot of discussion about that. Well received, but equally they do know now what the signs and symptoms of an opioid overdose is and when to get involved and when to not get involved."
Sullivan says on an average day, he responds to anywhere from four to six overdoses in a day.