Del. Center for the Inland Bays releases Mountaire contamination report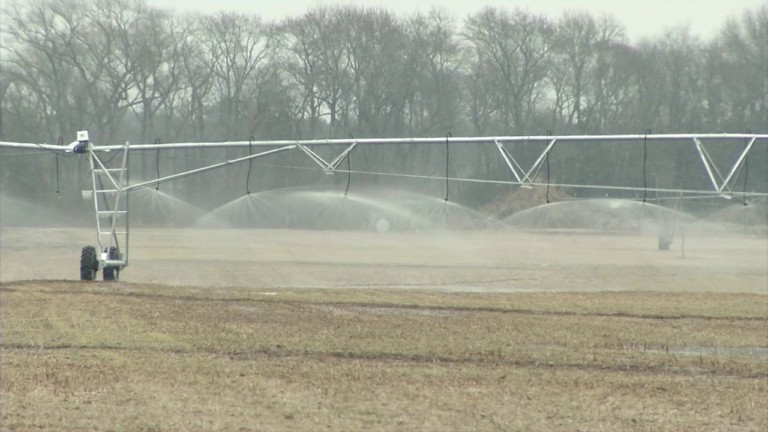 A collection of maps, graphs, and research detail what a non-profit organization believes is proof that Mountaire is responsible for groundwater contamination.
"All of the information we have to date show that there is significant groundwater pollution and surface water pollution on and around the Mountaire facility," says Scott Andres, the Chair of the Scientific and Technical Advisory Committee for the Delaware Center for the Inland Bays.
On Monday, the center released their findings on what they believe led to high levels of nitrates found in water around the Mountaire Millsboro facility. The report pointing out that the chicken company has a 'chronic history' of wastewater violations that could date back to 2005.
"The major findings are the nitrogen in the groundwater and the nitrogen levels being applied to the fields," says Susan Ball, the Chair of the Board of Directors for Delaware Center of the Inland Bays.
Although this report is new, Mountaire has previously disagreed with similar statements.
An attorney for the company told 47 ABC earlier this year that groundwater doesn't travel enough fast enough, meaning high nitrate levels were already already part of the land.
"The spray fields at Mountaire had absolutely nothing to do with elevated nitrate levels in those wells that were somewhat distant. The reason we say that is two fold. The groundwater travels very slowly, it travels 50 to 100 feet a year," says Michael Parkowski, an attorney representing Mountaire.
However the report says otherwise, pointing out that groundwater moves quickly through sandy soil, anywhere between 4 to 39 inches per day.
The report also claims the EPA and DNREC did not strictly enforce permits or compliance conditions on Mountaire.
47 ABC reached out to DNREC for a comment, but was denied due to an ongoing investigation.
Our team also reached out to Mountaire for a comment on the report, but did not get a response as of Monday afternoon.
In the meantime, the center wants to educate the public of their findings and what residents can do to prevent further pollution in local waterways, and they are doing that with an event called 'Rally on the River'.
The event will allow residents to get any of their questions answered, but also learn about the effects of pollution.
"The report will again be discussed, and give the residents an opportunity to talk about their concerns and frustrations, and learn what they can do improve the situation," says Scott Andres.
The event will be on Thursday, May 10th from 4 to 7 PM at Cupola Park in Millsboro.