Bright future ahead for new Cambridge solar field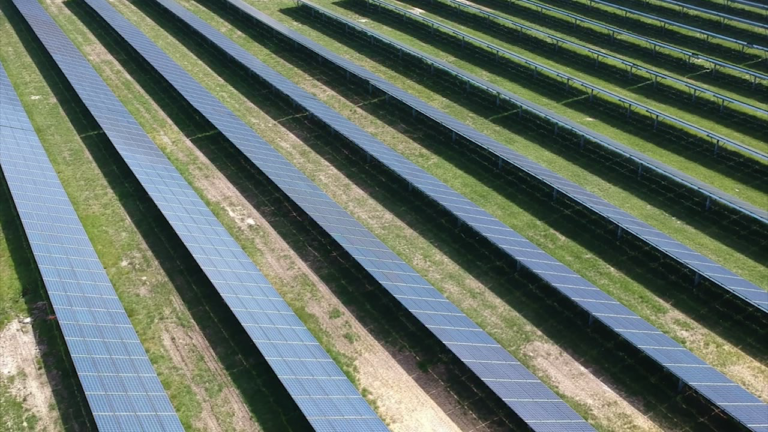 Earth Day has come and gone, but one local university celebrated the holiday one day late by flipping the switch on their new solar field on Monday.
The field is located at the University of Maryland Center for Environmental Science's Horn Point Laboratory campus, and the new installation is expected to power an impressive portion of the campus' annual energy consumption.
It is all in an effort to reduce green house gas emissions.
The Horn Point Laboratory partnered with Standard Solar to install 11,000 solar panels spanning across ten acres of land, harnessing the power of the sun.
Jeff Miley, the Facilities Director at Horn Point Laboratory said, "It produces the equivalent of half our consumption. The electric actually goes right back into the grid, but it's the equivalent of more than half of what we consume here."
This project is a Power Purchase Agreement in which Standard Solar installs and operates the solar panels in exchange for the use of land.
Subsequently, University of Maryland agrees to buy the equivalent energy being generated over the next 20 years from Standard Solar and directors of Horn Point Laboratory say, this will actually be saving them money in the long term.
Miley said, "We just agreed to purchase the power from this so there's really, we didn't invest any money in it, so it's a win win! It will yield long term savings, it's great for the environment."
This solar field isn't the only addition to the Horn Point Laboratory campus.
John Finnerty, the Director of Business Development at Standard Solar said, "There's the field that you see here, as well as on campus, a solar car port which provides covered parking for about 50 vehicles, and it also has four EV charging stations where you plug in and charge up your EV."
UMCES officials hope their efforts to reduce dependence on fossil fuel will encourage more businesses and facilities across the State of Maryland to go solar.
Peter Goodwin, the President of UMCES said, "So these sorts of projects really serve as a great example for people to understand climate change and the board and context of what it might mean locally."
If you are a business owner and you want your business to go solar, or if you just want to make your home solar there are some things you should know.
The first thing you need to do is identify if your building's roof is a good candidate for solar energy.
Experts say your roof should be no older than five to ten years old, it should not be shaded in any way, and they say asphalt shingles are the best material for solar panels.
If your roof is a good candidate, you are encouraged to then get a quote, and from there you can proceed with designing and permitting, and finally, installation.
If your building's roof isn't a good candidate for solar energy, members of Standard Solar say there is no need to worry, there are plenty of other options.
Finnerty said, "There's a lot of opportunity for solar whether it's on rooftops or on car ports, on the ground, and there's several programs available to help make it happen in Maryland."
To find out more about some of those programs, you can visit the Maryland Energy Administration's website.