Officials: Two homes destroyed in Rehoboth Beach blaze; fire results in $5M in damages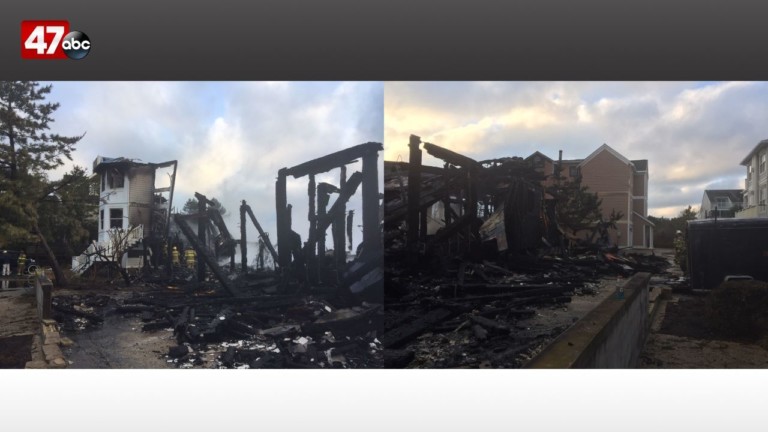 A Rehoboth Beach fire remains under investigation after authorities say two homes were obliterated as a result of the early morning blaze that caused several million dollars in damages.
The Rehoboth Beach Volunteer Fire Company says on Tuesday, around 3:10 AM, they were dispatched to a reported house fire on Sand Dune Drive. Officials say they were assisted by the Lewes Fire Department and Bethany Beach Fire Company on the initial dispatch.
According to the report, once on scene, first responders observed that two houses were heavily involved. Firefighters report that severe winds, cold temperatures and low water pressure from the county hydrant hindered their work against the fire.
Sixteen fire companies from Sussex County and Sussex County EMS assisted Rehoboth Beach VFC in putting out the blaze. Authorities say units were on scene for over seven hours.
Officials report that the no one was inside either home and there were no injuries. According to fire officials, the two homes were severely damaged as a result of the fire. Three other homes sustained heat damage including cracked siding and broken windows, says the Delaware State Fire Marshal's Office.
Officials say a firefighter was taken to Beebe Medical for a laceration of the head.
The incident caused $5 million in total damages.
Responding fire departments included Lewes, Bethany Beach, Indian River, Millville, Milton, Slaughter Beach, Georgetown, and Millsboro Volunteer Fire Companies.
The cause of this fire remains under investigation by the Delaware State Fire Marshal's Office.
—
Officials with the Indian River Volunteer Fire Company along with several other departments are on the scene of a serious fire.
Around 3:10 a.m. on Tuesday, officials responded to 3 Sand Dune Drive in Rehoboth Beach, Delaware to assist Rehoboth Beach Volunteer Fire Company, Station 86, in controlling three houses on fire.
As of 8:00 a.m. officials were still on the scene working.
We will be sure to keep you updated as more information becomes available.