Democratic hopefuls hold gubernatorial forum on eastern shore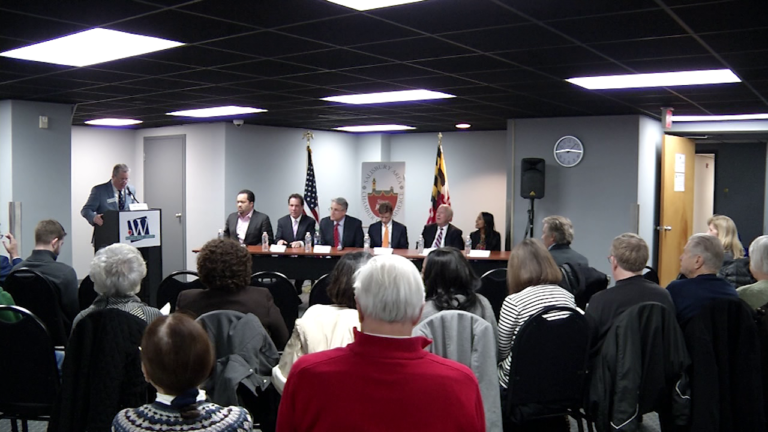 Eight individuals are vying for the right to take on Governor Hogan one-on-one in the fall election. Six were in Wicomico County Friday afternoon meeting with locals to discuss their agenda and listen to voters who feel they have been ignored in past election cycles.
Candidates were asked to explain their position on six topics. The conversation led off with how to improve business. Former policy director for Michelle Obama, Kris Vignarajah, says Democrats need to be the party of small businesses.
"We have a high tax burden. The fact that the high cost of living is something that we have to address is why businesses and people end up moving to Virginia, and to Delaware."
Former chairman of the Venable LLP law firm Jim Shea says building Maryland from the ground-up is the key to attracting new business.
"Infrastructure in this country, and in Maryland, is crumbling. We need to invest in that. If we do that, that will create jobs as we do it, and will spur economic development thereafter."
Multiple candidates questioned long-standing democratic stances on college education, calling for more skill training for those who choose not to attend traditional universities out of high school.
"We also need to make job skill training more accessible," says Baltimore County Executive Kevin Kamenetz. "And that means training people to acquire the skills like we've done in Baltimore County, with our Job Connector Program, to match up with the jobs that are out there."
"I want to create a pathway from our schools into the middle class, even for those among us who are not going to go to college," said Alec Ross, senior advisor for innovation to Secretary of State Hillary Clinton.
Ross brought innovative thinking to one industry that defines the eastern shore, agriculture.
"If we can be the region's leader in data analytics in agriculture, we can continue to compete and succeed regionally and globally."
Finally the conversation turned to opioids. State senator Rich Madaleno called out Governor Hogan, saying he has done nothing but talk about the crisis, but fails to put state surplus dollars where his mouth is.
Madaleno says he would allocate $80 million dollars to fighting the epidemic, the number Hogan's own task force says is needed. He says those funds can come from the state's $400 million surplus.
"We can put that money in right now, and we should be doing it. And if we had leadership from the Governor to do it, as opposed to just always talking about it, we could get that done, and we could get the treatment out and start it right now."
Meanwhile, Ben Jealous made a call for the legalization of marijuana, claiming it would bring violence down while giving those addicted a new avenue to recovery.
"We need to legalize cannabis for adult use… It's also an alternative to opioids for many people."
Forum organizer Bill Chambers says there is interest from democratic candidates to return for another forum prior to the primary on June 26.