Wicomico County Sheriff's Office holds second active shooter training for public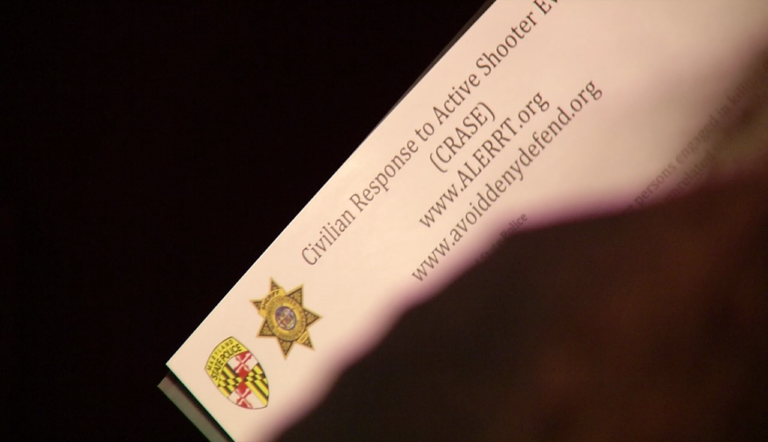 It takes on average three minutes for law enforcement to respond and arrive to an active shooter situation. And what you do in those critical moments matters. On Tuesday dozens of community members attended an active shooter training to learn how to increase their chances of surviving a mass shooting, an epidemic, that's occurring far too often.
"Quite honestly it's not if, it's when it happens," said Sheriff of the Wicomico County Sheriff's Office Mike Lewis.
That's the harsh reality Lewis has come to acceptas the number of mass shootings continue to grow across the country. And after the recent Florida school shooting, he's making it his job to make sure the residents of Wicomico County are prepared.
"We give them some ideas of how to respond, how to react, and what they can do to help save their lives ," said Lewis.
On Tuesday The Wicomico County Sheriff 's Office and The Maryland State Police held their second active shooter training course for the public to teach them how to respond if they ever find themselves in an active shooter situation.
"One thing is for sure we know we cannot prevent these from occurring. They will continue to occur unfortunately. But what we can do is prepare ourselves for when it does occur to minimize the number of casualties that we can expect at any given time," said Lewis.
People from all over Delmarva came to attend the training in hopes of bringing back what they learned from the session, and teaching it others.
"I want to get this information and take it back to my church to my work and everywhere else," said Salisbury resident Tyrone Cooper.
The training included videos, demonstrations, and powerpoint presentations teaching people how to increase their chances of surviving an active shooter event, or any other critical incident.
"You have to be calm, check out your surroundings and delay causes problems so if you know what to do it reduces fear," said Cooper.
And Sherriff Lewis also had an important message to share to the residents of Wicomico County:
"I'm not going to get into what happened back in Parkland, but I can tell you this–that will not happen here in Wicomico County.The men and women the citizens in this county can expect from their sheriff deputies from their troopers and their police officers—we will go in alone. That's what we're trained to do that's what we're supposed to do," said Lewis.
And if you missed Tuesday's active shooter training, officials say there will be other training opportunities in Wicomico County in the next couple of months.