Students get an out of this world experience at NASA Wallops Flight Facility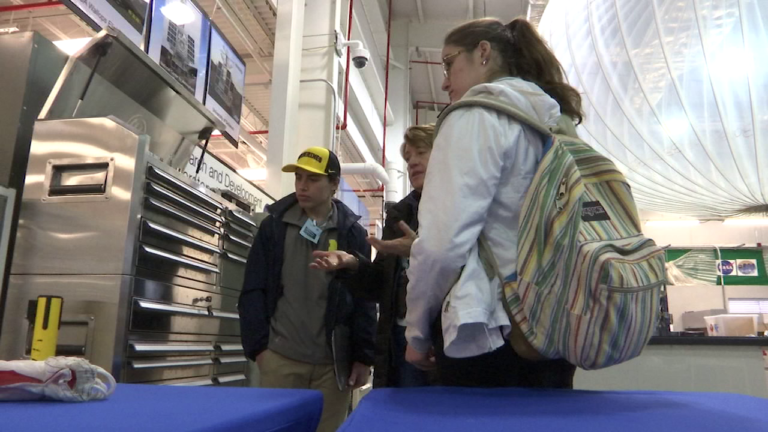 A few lucky high school students had an out of this world experience at NASA on Friday. In honor of Groundhog Day, NASA chose 15 students from nine high schools in Virginia and Maryland to shadow NASA personnel for the day.
Emily Malinowski, a student, said, "I was pretty excited because at some point in my future, I really want to work for NASA so having the opportunity to see what it would be like to work here, I thought it would be really cool."
Friday marked the sixth annual job shadow day at NASA Wallops Flight Facility and officials say, the program has grown exponentially throughout the years.
Keith Koehler, the News Chief at NASA Wallops Flight Facility said, "This year was actually probably our biggest year. We had almost three times as many students participating this year as last year and we actually had more students interested in wanting to do this than we actually had mentors available."
Throughout the day, students were able to see and learn about the latest technology such as the ice cube, rocket construction and space balloons.
Shaun Guernsey, a student, said, "I think the coolest one I saw today was just outside over here with the balloon testing and just how they're able to get this huge payload into such a small capacity for a balloon and be able to travel all the way around the world with it and do different things with it and it's really cool."
Students say they appreciate the opportunity to meet other kids from different high schools who share similar interests.
Guernsey said, "You have every one with common interests here so maybe someone at your school doesn't think the way you do, but you have everyone else from this general area that has all these common interests with you that enjoy the same thing as you do, so that's really cool to see all of that."
NASA officials hope this educational program will encourage more kids to enter into scientific fields in the future, and they hope the program will encourage the students to apply for their internship program.
Their internship program called OSSI begins in the summer.
High school students above the age of 16 and undergraduates are eligible to apply.
You can find the application with more information here: https://www.nasa.gov/centers/wallops/education/students/internships/index.html