Hundreds gather in Delaware to 'Go Red for Women'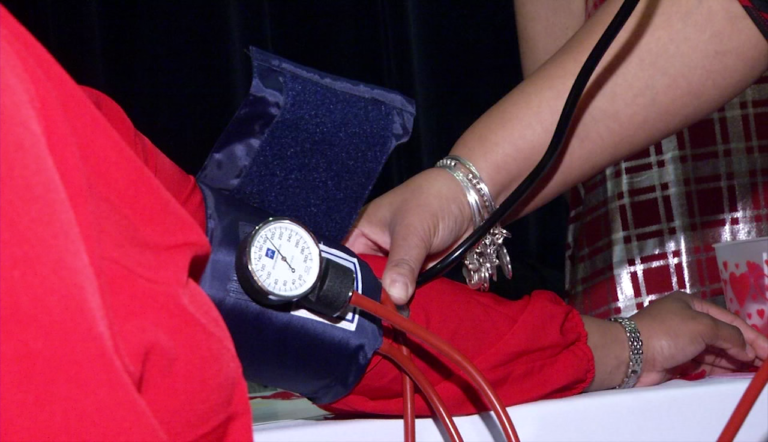 Heart disease is not only known as the silent killer, it's also killing women faster than any other disease. According to the American Heart Association it's the cause of one in every three deaths each year which is approximately one woman every minute.
"Women are still 3 times more likely to die from a heart attack then a man," said Secertary for the Delaware Department of Transportation Jennifer Cohan.

It was a sea of red at the Dover Downs Conference Center as dozens celebrated National Wear Red Day by wearing the color to empower women to know their numbers and to take control of their heart health.
"It's a silent killer and it's very important to get that message out," said associate director of at the BAYADA Bayhealth home care group Terry McIntyre.
It's called the silent killer because often the symptoms go unnoticed. That's why for the 15th year in a row the luncheon brought both men and women together to offer facts about heart disease. Some of Delaware State University's nursing majors were among those in attendance offering free blood pressure screenings.
"Being that we are in a community where women are like the majority it's important for them to know their ratings and see if they're borderline, to see if they're high if they're good and it's good to know just so they can take measures to better their health," said nursing major Breanna Clinton.
According to the American Heart Association heart disease and stroke kill about one in three women which is more than all cancers combined. So health professionals say that in order to fight the silent killer, you should get your blood pressure taken regularly.
"Anything above 120 over 70 between 70 and 80 and if it's consistently going up higher than that you would want to make sure that you're getting followed and treated," said McIntyre.
Health officials add other factors that play into your heart health include your diet, exercise, and even your family history.
"You're more exposed or pre-exposed to heart disease if your family member, mother, especially your mother or father had hypertension or a heart condition ," said McIntyre.
All proceeds from the event go to the American Heart Association to fund research to help end heart disease and stroke.
Health officials also add that the more a woman knows about heart disease the better chance she has of beating it. And you can help the American Heart Association meet their fundraising goal of $2 million by donating at goredforwomen.org