New bill aims to get closer to the truth of sentencing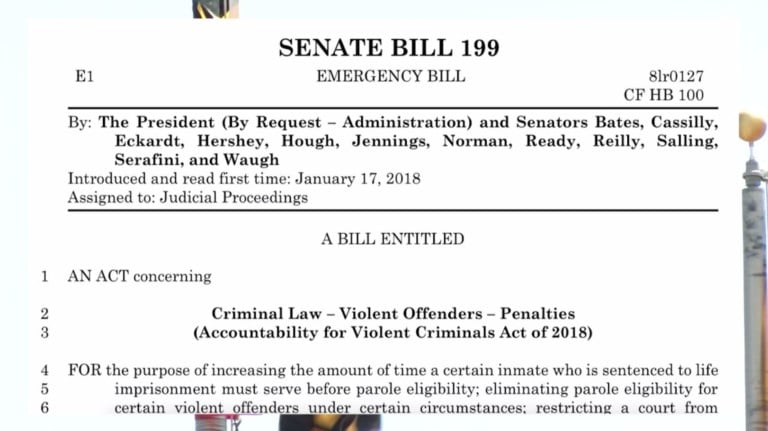 There is a new bill designed to get closer to the truth of sentencing.
It is known as the Accountability For Violent Criminals Act Of 2018 and it is one of several bills that will be included in Governor Larry Hogan's Statewide Violent Crimes Initiative.
"That's the goal of the bill is to decrease the number of victims that are walking in the street."
Senate Bill 199 aims at changing the current law when it comes to violent criminals and repeat offenders.
The focus is eligibility of parole when it should be allowed, especially when discussing defendants found guilty of 1st and 2nd degree murder.

"This new bill that the Maryland's States Attorneys Association supports, as the Governor does, would make parole eligibility for life offenders at 25 years, instead of 15 years which would make the penalty more consistent, more in line with the current second degree murder penalty," says Wicomico County State's Attorney Jamie Dykes.
This means a life sentence with the possibility of parole would only be able to go in front of the parole commission at 25 years, not 15 years like it is right now.
But this isn't the only correction the bill aims to fix, it's also focusing on repeat offenders of violent crimes.
"So under the current statute the judge could say ten years and the judge would have to say ten years, but that ten years means five."
Dykes tells us as it stands right now you are parole eligible after serving 50 percent of your sentence for a violent crime.
Dykes says that's because its a practical numbers game, overcrowding of prisons, resources, and more all play a part.
But this bill would change that.
"Under SB 199, the proposal is that the judge has to give ten years but also the defendant is not eligible for parole on that ten years, so ten years actually means ten years," explains Dykes.
The hope of this revision to keep repeat offenders off the streets.
"A victim of a violent crime is affected by that crime for a long time, many the rest of their lives so if we're keeping offenders locked up longer we are decreasing the number of victims."
Wicomico County Sheriff Mike Lewis tells us he supports "any bill that would give truth to sentencing."
He believes criminals should be serving at least 85 percent of their sentence.
Now this bill is not set in stone just yet even if passed in the Senate, it will also have to pass in the House of Representatives.