Georgetown post office working to get back on track after mail was delayed due to storm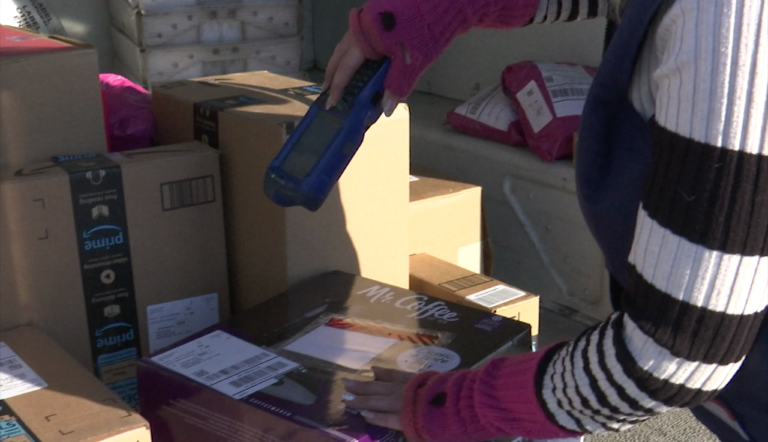 "We just ask our customers to be patient. The snow is melting. It'll be gone in a couple of days. We'll be caught up by Saturday I'm sure," said mail carrier for the Georgetown United States Postal Service Billie Jo Coffin.
Georgetown's United States Postal service is working around the clock to get packages and mail delivered to Delaware residents after the recent snowstorm kept them from doing their jobs.
"The mail doesn't stop coming in, it comes in everyday so on the days that we didn't get to deliver like Thursday, when Friday came around we had two days' worth of mail, and then Saturday, most routes had 3 days' worth of mail," said Coffin.
The weather conditions didn't make the mail carriers jobs any easier as they fought against the wind that swept the snow right back onto the streets making roads impassable.
"Some had made an attempt to get out for about 5 to 10 minutes to realize it wasn't going to be any way that they could possibly deliver safely and effectively," said post master for the Georgetown United States Postal Service Kendrick Ellison.
"If the road doesn't look good when we're at the entrance we're not going down it. It doesn't matter if you shoveled out your driveway, if you shoveled out your mailbox. If the road is not clear we will not go down it," said Coffin.
Which led to customers having to go to the post office themselves to pick up their undelivered packages instead.
"We left 38-49 slips for the customers to come into the office at this point it was just safer for them to come in," said Coffin.
Now that the storm is over mail carriers say they're working extra hard to make sure your mail and packages are delivered safely and securely to customers.
"It's a matter of them understanding that we don't want to keep their mail and we don't want to keep their packages we're trying our best to get it to them," said Ellison.
Most mail carriers have more than *700 mailboxes* they have to deliver to– and they emphasize if their customers can be patient– and work with them– it'll make the whole process go a lot smoother.
Ellison also adds that if you're still waiting for a package that hasn't been delivered yet, to head to Georgetown's USPS post office, and the clerks will help you locate your items.