Delaware cheerleading team in need of donations to compete in national championship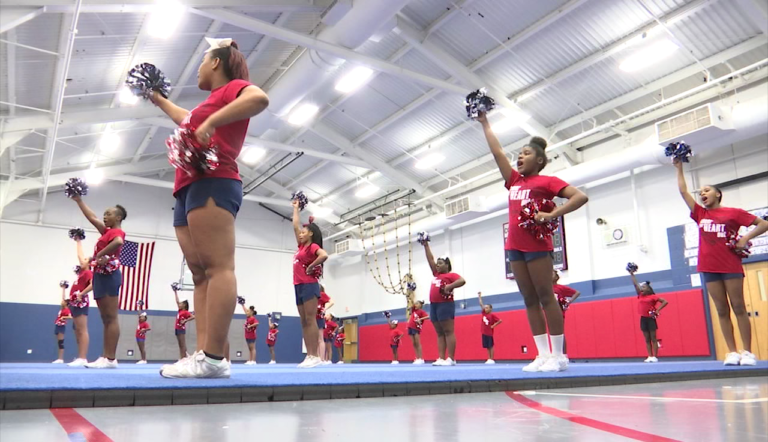 "We fundraise and fundraise and fundraise and I just don't want to tell 25 kids that we can't go because of money," said head coach of the campus community school's cougar cheerleading team Robin Smith.
$15,000 that's all that's separating the Campus Community Schools cheerleading squad from a chance of lifetime to compete in the National High School Cheerleading Championship that's held at the Walt Disney World Resort in Orlando, Florida every year.
"Not everybody gets to go you have to actually win your spot, earn it, and I think it's a one time opportunity this is like… you don't get it all the time," said Cougar cheerleading captain Tyera Grier.
The Cougars punched their ticket back in December when they won regional's. Snapping a 15 year drought where they failed to qualify each year. But now they face a different challenge…money. Because Delaware doesn't recognize cheerleading as a high school sport, the girls must raise everything themselves.
"We've done sponsorship letters, my parents have been hitting the pavement asking businesses, we created a sponsorship program to attract businesses and individuals who are interested in sponsoring," said Smith.
The Campus Community school is considered a title one school. Where most of the kids live at or below the poverty level. A trip to Disney would mean the world to them, a chance to go to the happiest place on earth. So far the girls have raised $15,000 the other 15 they're hoping will come from the community they hope to represent
"I believe In our community I believe in this area," said Smith.
If you're interested in helping the team get to the sunshine state you can head on over to the Campus Community School in Dover where they say every little bit helps.
The cheerleading squad can accept donations up until February 3rd– where they then are scheduled to leave for competion on the 9th
To donate visit:
video-static-01.clipsyndicate.com/c0d2/2018/01/16/03/56/be328064dbae44e9b31c9bf092232958.pdf?co_id=1172
For more information on how you can help the team you can contact:
Robin D. Smith
Head Coach
350 Pear Street Dover, DE 19904
Email: robin.smith@ccs.k12.de.us
Cell: (202) 276-2470 Office: (302) 736-0403
Fax: (302) 736-5330