Battleground over fossil fuel drilling comes to heart of Delaware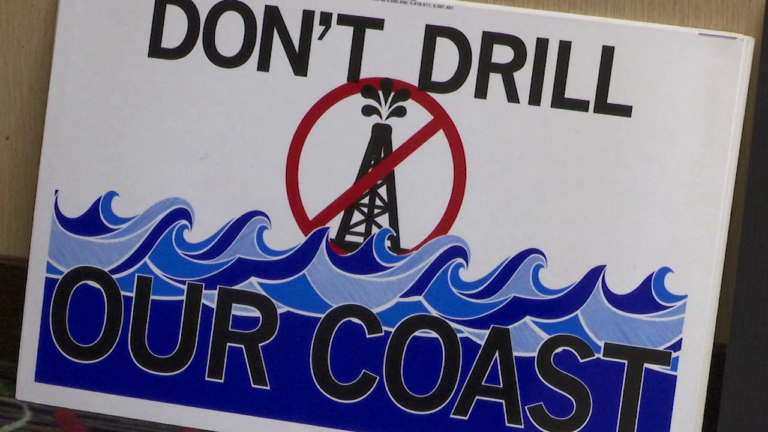 Delmarva's fight to stop drilling for fossil fuels was thought to be over in 2016 when the Obama administration banned drilling along the eastern seaboard.
That fight has been given new life by the Trump administration, and Thursday Dover was the battleground as officials from the Bureau of Ocean Energy Management were in town to collect information from locals to continue the exploratory process.
Matt Heim with the Assateague Coastal Trust said it best, quoting Yogi Berra's famous line, "deja vu, all over again."
It seemed that way as environmentalist gathered for a rally to oppose oil and gas development off the Delaware coast.
One after another, opponents to the proposal came to the podium making arguments, including risks to Delaware's $3 billion tourism industry, marine life and fishing industry.
Rich King with Delaware Surf Fishing quipped that fish and oil don't mix, "unless I'm cooking them on the stove."
The press conference type rally occurred just down the hall from a public information meeting held by the BOEM. There officials explained their current mission of trying to pin-point locations across the nation's coastal areas that suited oil and gas exploration, or didn't fit the bill.
"One of the things we're supposed to do is look at existing ocean uses. And understanding impacts to fisheries, understanding who fishes where and the value that they have in that area that's all things that we look at carefully in our environmental analysis," said BOEM marine biologist Jake Levenson.
The process is in it's early stages, but BOEM had answers to most questions. However, when it came to potential jobs, answers became lukewarm.
"We have an economist that works on it. Although, I think the answer is no one knows exactly, and there will be some," says BOEM chief environmental officer Bill Brown.
BOEM's driving point is like it or not, the nation needs fossil fuels, and they have to come from somewhere.
"The bottom line is people that are watching this should reflect on the fact that they're still driving cars with gasoline and using oil and gas," said Brown. "While we are using the fossil fuel energy it needs to come from somewhere."
Whether for or against, you have the chance to weigh in during the public comment period lasting through March 9 at regulations.gov.
Governor John Carney has already come out against drilling and testing saying in a statement he has concerns over over the possible impacts on tourism and the environment in Delaware.
"I want to thank Secretary Zinke for taking time to discuss the risks associated with offshore oil and gas drilling. During our conversation, I invited the Secretary to visit Delaware to see firsthand what's at stake for our state, our beach communities, our economy, and our natural resources. He accepted the invitation, and we look forward to his visit. As we've said publicly, drilling off Delaware's coast would create the risk of a catastrophic spill that would have devastating effects on Delaware's economy and our environment. Our coastal economy generates $7 billion in economic activity, and supports more than 60,000 jobs in the fishing, tourism, and recreation sectors. The health of Delaware's economy and environment are directly tied to the health of our coastal areas. Delaware simply cannot accept the risks associated with offshore drilling, and we will continue express our concerns to the Trump Administration. I was encouraged by my conversation with Secretary Zinke today and look forward to continued dialogue."
Both of Delaware's U.S. Senators from The First State, Chris Coons and Tom Carper, also have weighed in, calling the potential move to expand oil and gas drilling short-sighted in their joint statement.
"Delaware is home to 28 miles of coastline that includes beautiful beaches, vibrant communities and thriving businesses that are critical to our state's economy. Many of our local economies rely on fishing, tourism and recreational activities that depend on a healthy coast. The Trump Administration's proposal, released earlier this month, to revisit the offshore drilling program three years ahead of schedule and potentially expand oil and gas drilling in the Atlantic is shortsighted. This decision ignores the input of both scientists and coastal residents and unnecessarily jeopardizes the environmental and economic well-being of the entire East Coast, including the First State.
"This is not a partisan issue. Republican governors and lawmakers from states up and down the East Coast also recognize that this is the wrong move. Recently, after facing opposition from Republican Governor Rick Scott of Florida, the Trump Administration decided to exempt only that state from this potential drilling expansion. That is wrong. Florida may have more coastline than our state and be home the president's beach resort, but Delawareans deserve to have their voices heard just as much as Floridians.
"Delaware's beaches bring in $6.9 billion each year and support 10 percent of our state's workforce. An oil spill off our coast would be devastating, resulting in severe environmental and financial costs that would last for generations.
"We urge President Trump and Interior Secretary Zinke to listen to the coastal residents who will be most impacted by this decision, abandon this proposal and maintain the coastal protections outlined in the current Five-Year plan."
At today's meeting, Lewes Mayor Ted Becker stepped to the podium to read the resolution passed by him and the city council back in 2015 when they became the first municipality in The First State to oppose testing and drilling.
Becker added many other local mayors, including Fenwick Island Mayor Gene Langan, are against the move.
"We're opposed to the drilling because of concerns about accidents and spills. We don't want any of that in Fenwick," says Fenwick Island Mayor Gene Langan. "I think it would kind of hurt our economy. As you know, tourism is second biggest part of the economy in Delaware after agriculture, and I think it would have a big impact on it."