PRMC first in state to adopt a lab system that attacks bacterial infections quicker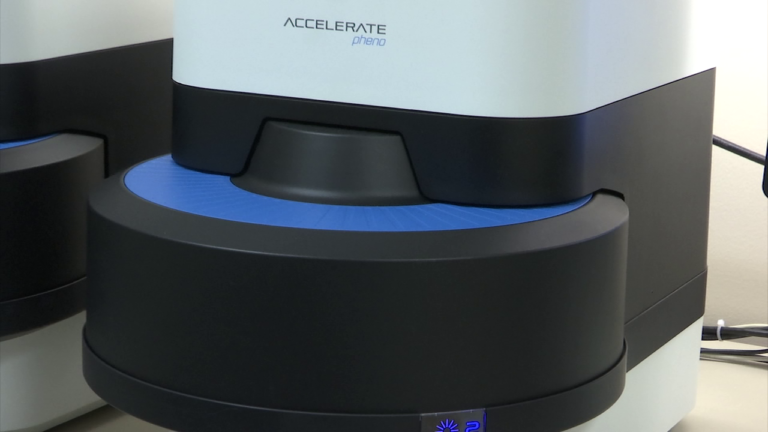 A new system has launched today that will help patients at PRMC.
It's the first in the state and fifth in the nation.
PRMC is fighting bacterial infections with their newest lab system. The machines are called the Accelerate Pheno System, which detects exactly what antibiotic is needed.
A Clinical Microbiologist at PRMC, Beth Prouse tells 47 ABC, "What this instrumentation does is decrease the amount of time it takes us to let the clinicians and the clinical pharmacists know the susceptibility results for bacteria that are actively multiplying in a patient's blood stream."
That bacteria growing is known as sepsis. We're told PRMC sees up to 2 cases a day.
Some signs include fever and lethargy. It can stem from pneumonia or even a UTI.
The faster they find the right solution to attack these infections, the quicker they can get patients treatment.
Their prior system which used to take 48 hours has sped up to just under 8.
"What we're doing is taking pictures of the organism growing in the presence of antibiotics so if the bacteria grew then we know they're resistant to that antibiotic. Based on how they grow in the picture in the presence of antibiotics, instrumentation is taking pictures of that and it's comparing it to a library of pictures that we have," Prouse says.
Once they find out the results, they reach out to their clinical pharmacists to get the ball rolling quicker.
Besides saving lives, this system can also save health care dollars because patients won't stay in the hospital as long.
Before their launch today, they already had verification done to prove that the machines are accurate.
The next step is to work with PRMC's Institute Research to show how they are improving.