DNREC and DDA issue interim regulations for firearms in state parks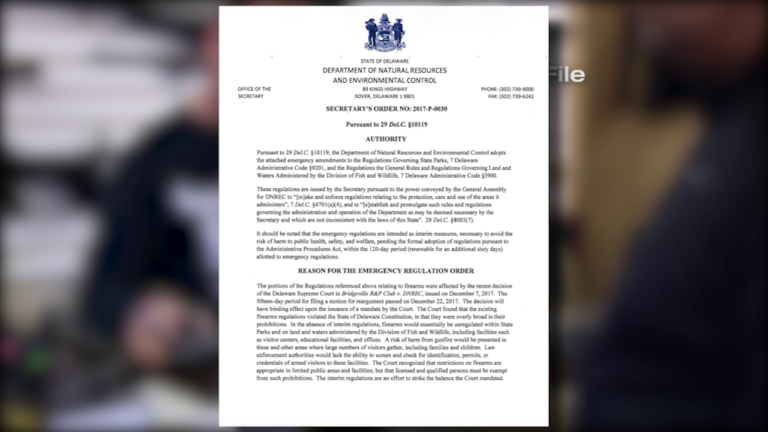 The Delaware Department of Natural Resources and Environmental Control along with the Delaware Department of Agriculture are now issuing interim regulations regarding possession of firearms within Delaware's state parks, state wildlife areas and state forests.
In Delaware, the regulation of firearms in state parks and other public lands is a hot-button issue in the state court and recently it was determined in state case Bridgeville R&P Club v. DNREC that the existing regulations were too broad.
The courts raised concerns over the safety of visitors and say that without new interim regulations, firearms would generally be unregulated in these state parks and wildlife areas.
Because of this, the Court recognized that gun restrictions in these public areas such as visitor centers, museums, restaurants, and other recreational areas would be appropriate but lawful gun owners must be exempt.
That is why DNREC and the DDA are now introducing these news regulations to strike the balance as mandated by the Court. Law enforcement and those with concealed carry permit or other gun licenses are among those exempt but will have to display identification upon entry or request.
47ABC spoke to DNREC Secretary Shawn Gavin, who says that these new regulations give clarity to who can carry a firearm within these public areas.
By law, these interim regulations are effective for 120 days, and that period can be extended by an additional 60 days, to a total of 180 days.