A look back at 2017 across Delmarva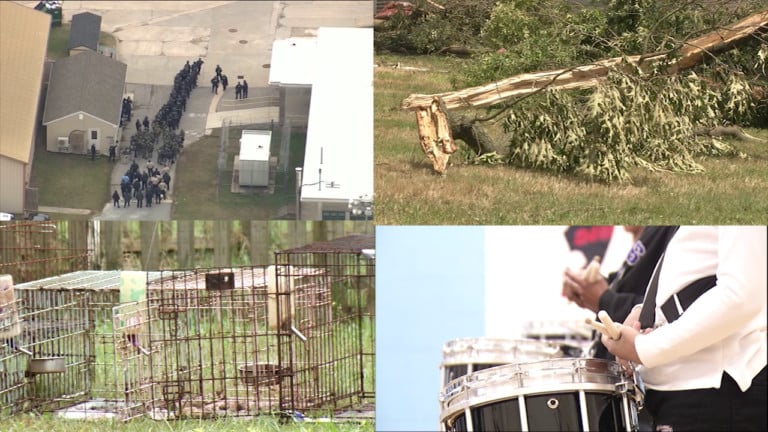 Here's a look at the 2017 moments that defined Delmarva. The ones that took our breath away, stole our hearts and made us proud to call this peninsula our home.
"This has absolutely been the hardest day of my life," said Geoff Klopp, president of the Correctional Officers Association of Delaware.
February 2017, a difficult day. One that will go down in the history books for all the wrong reasons. It was here at the James T. Vaughn Correctional Center that inmates staged a riot, a takeover, that led to a 19 hour standoff. A hostage situation, that ended tragically.
"And at 05:29 Sergeant Steven Floyd, who with the department for 16 years, was pronounced dead."
"That's why today I'm launching an independent review into the incident at the Vaughn Correctional Center," said Delaware Governor John Carney.
Eight months later, a $7.55 million settlement was reached. But that wasn't the only time this year a man in blue died in the line of duty. In March, another tragedy. A father and husband, Corporal Stephen Ballard was gunned down at a Wawa in Bear.
"Last Wednesday, April 26, 2017 Corporal Ballard gave the ultimate sacrifice he encountered someone who didn't respect the uniform," said George West, Mayor of Georgetown.
"He loved his family but that wasn't just me and Abigail and that was you that was the community," said Louise Cummings, Ballard's wife.
2017 also saw one of the worst cases of animal neglect uncovered in the First State's long history. Here in Seaford, 43 dogs were found dead and 31 others were pulled from the property clinging to life.
"You know as far as crates and kennels and feces and dogs laying in the feces and dead dogs laying there. I just told my kids to get back inside shut the door," said Michael Brack.
"The fact that they were so severely matted really makes us wonder how long they had been overlooked," said Walter Fenstermacher, SPCA Georgetown.
Another shocking discovery was in Ocean City. This one was buried in the sand.
"Earlier here on the 2nd street beach in Ocean City, a beach goer was walking along the beach at around 6:30am when they came across a body," said Brooke Butler, 47 ABC.
The woman was identified as a tourist from Texas. But to this day, how she ended up here in the sand, dead, is still unknown.
Delmarva also had its fair share of historical controversy, surrounding a confederate marker.
"It's just an inanimate object. It isn't going to hurt anybody, it isn't doing anything to anyone," said Julie Brewington, Salisbury resident.
"It's the location of the sign next to the courthouse, next to where this lynching, where the slave pens were that is what I have a problem with," said James Yamakowa, SURJ.
And a more than 30 year old tradition came to an end.
The pumpkins stayed on the ground, no flying in Sussex County, after a lawsuit was filed against Punkin Chunkin by a producer who was severely injured in 2016.
"It was not just exposing Bridgeville to a lot more people outside the area, but it also um, from the standpoint of hotels in the area, restaurants, that's a great loss of revenue," said Grafton Adams, past Punkin Chunkin participant.
But this year may be remembered for severe weather. Mother Nature leaving a number of footnotes in the history books. And it was capped by a series of tornados. An F-2 tornado in Stevensville.
"Approximately 9-thousand homes and business were affected, by power outages, any type of damage to the residences and businesses," said Scott Haas, Queen Anne's EMS Director.
And an F-1 in Salisbury.
"We were pretty surprised to see the windows still here , still didn't expect to see cars on top of my car in the parking lot," said Fallon Rice, storm eyewitness.
But those storms were nothing compared to the hurricanes that ravaged Texas and Puerto Rico this year. You, Delmarvans, understood that. And that's why you stepped up to help in any way you could.
"Nobody is doing anything for this particular hurricane for hurricane Maria so I felt it was my turn to step up and do something," said Hector Ortiz, fundraiser organizer.
And someone who did good, and inspired the community to be better, was lost this year. Twelve-year-old Brooke Mulford is no longer with us. Her long battle with cancer over, as her legacy lives on.
"This is months later now that I'm still hearing from people and stories on how she inspired them or their children or somebody in their life through their battles," said Amy Mulford, Brooke's mother.
Brooke showed the community that it's the little things in life that make you happy. Things as simple as a kindness rock.
"It's been a good journey like this rock here this is one of my favorites it doesn't say anything but look at it and it says a whole lot," said Charles Walters, rock recipient.
Meanwhile, some of the youngest members of our community continued to be the silver lining. The Sells children defied all the odds. And their renovated home is now the start of a new chapter.
"I️ just can't tell everybody 'thank you' enough for all they have done for us as a family. We couldn't have made it without everyone that helped us. We wouldn't have made it," said Valentina Downing, the Sells' grandmother.
And some pint sized local celebrities showed us what it means to march to the beat of our own drum.
"I never thought it would be this deep like I never thought I would be changing kids lives who really need it," said Ray Washington, band director.