UPDATE: One injured after fuel tanker crash in Kent Co.; SR1 remains closed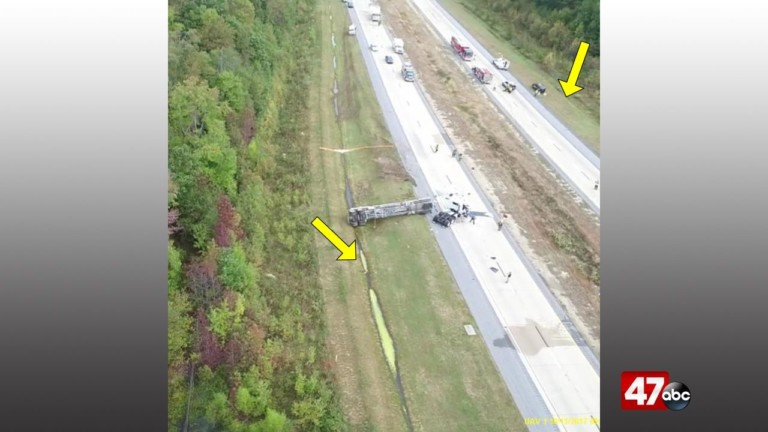 Delaware emergency officials say they are currently on scene working to contain the gasoline leak caused by a fuel tanker crash, in Kent County.
Officials with the Delaware State Fire School say emergency resources are on the scene working on isolating and containing a gasoline leak after a fuel tanker overturned on State Route 1, in between Townsend and Smyrna. The Department of Natural Resources apparently has crews working to pump the remaining gasoline off the tanker.
According to officials, foam has been applied to suppress the vapors from the gasoline to limit the chance of ignition. The scene is in a remote area approximately one mile from the nearest fire hydrant, according to officials, so a water tanker operation has been put in place to make sure there is enough water on site to make foam. Ten fire department water stations are reportedly on scene and others nearby are backfilling to ensure that there is adequate coverage in case of other emergencies.
SR1 remains closed in both directions between Route 299 (Middletown Odessa Road) and the North Smyrna exit. Significant Delay are to be expected in the area between Townsend and Smyrna.
DNREC, DSP, DELDOT, Delaware State Fire School, New Castle County Emergency Management, Delaware City Refinery (foam), and various local fire companies from NCC, Kent County, DE, and Cecil County, MD have assisted in responding to this emergency situation.
—
State Route 1 remains closed, after authorities say a fuel tanker crash caused a gasoline leak, in Townsend. Officials say the driver was seriously injured.
Delaware State Police say on Wednesday, a crash involving a jack-knifed tractor trailer happened on State Route 1 southbound, in the area of New Discovery Road, in Kent County. The Townsend Fire Company apparently responded to the crash on SR1, south of Townsend. According to fire officials, once on scene, they noticed a tractor trailer carrying gasoline had overturned down an embankment on the south side of the road. Troopers say the driver was flown to Christiana Hospital by Trooper 4 with serious injuries.
Authorities report that SR1 southbound is closed at DE 299 (Middletown/Odessa) and northbound is closed at Exit 119 (Smyrna). Troopers say road closures up to 12 hours are possible.
Officials with the Townsend Fire Company say the tanker s leaking and emergency responders are on scene working to isolate and contain the leak.
For more road closure information, see DelDOT.
This article will be updated as more information becomes available.