WiHi junior changing expectations on the gridiron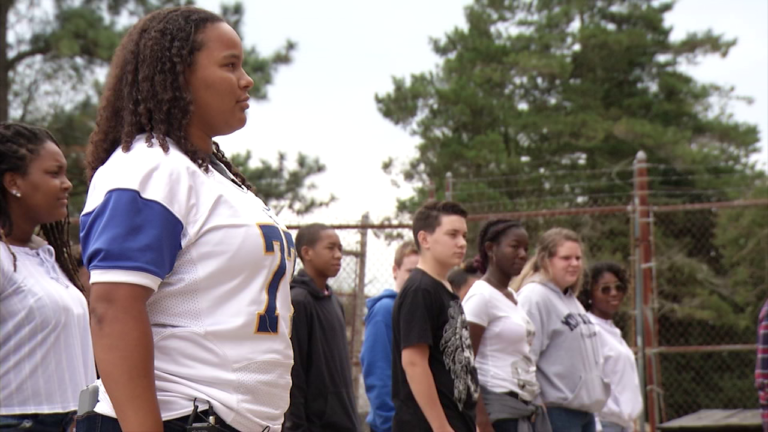 From lifting weights to leading drills, and even playing football, Bryana Smith-Cheeks is changing the game for high schoolers here on the shore.
It may seem like a lot, but for Bryana it's simple.
"I feel like a can always better myself so I'm always trying new things and see how they go," says Bryana.
A junior at Wicomico High School, Bryana, better known as Bree, might not be the most talkative girl but her actions speak volumes.
She's doing something most high school girls have never even attempted to try–football and playing one of the hardest positions in the game, she plays nose tackle. It's probably the most physical position in all of football.
WiHi's head football coach Brian Hanson says it was Bree's hard work and determination on and off the field that got her a spot on the team, especially after seeing what she could do in the weight room.
"You only want to be in there if you want to train and she just the fact that she's coming in there and working I was like you know I think Bree is going to have a chance," says Hanson.
But Bree doesn't just tackle football head on, she carries that commitment with her in everything. In her AP and honors courses even as a platoon sergeant for junior ROTC.
Her ROTC instructor, Sgt. Travis Wheat says, "So again she might not be the fastest or the strongest person, but she doesn't quit and that's one thing that I noticed from her right away. She shows up everyday with effort, that's all you could ever ask for."
A leader in every sense of the word, Bree hopes her actions will pave the way for other girls who may fear if they too can run with the boys.

"I mean I was scared at first because I didn't know what to expect but now I like playing it and I'm glad I did it," Bree continues, "If they wanted to play and they thought they couldn't because males play it now they can think they can play it because of me playing."
Sgt. Wheat adds. " She becomes a teaching point. We can use her as a confidence booster and say here look she broke through she plays football she does all these things she maintains great grades and all that stuff, so no matter how hard it is its possible."