Greenwood's positivity pioneer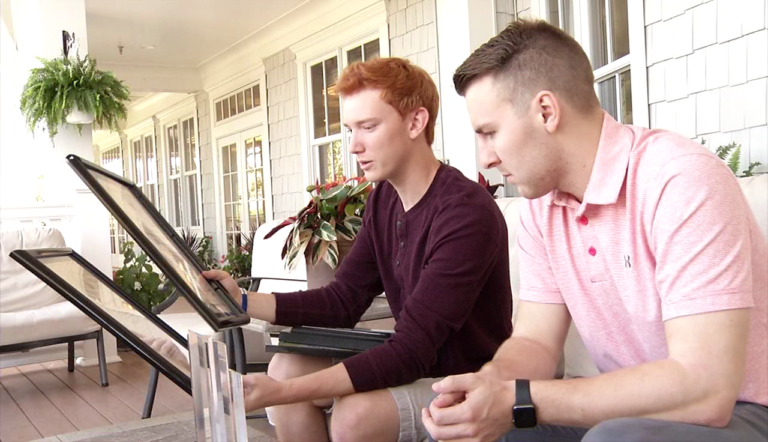 Chase Marvil, the founder of The Inspiring Project, is looking to change the scope of social media through positivity.
On social media sites today, there can be so much negative. But, Marvil is looking to change that sphere with The Inspiring Project. A 4-year-old social media campaign created by the Greenwood resident brings joy and happiness to over 60,000 followers dealing with cyber bullying and personal struggles, every day. Marvil says so far, they've helped over 96,000 people overcome their struggles, almost to their goal of 100,000, all through a simple hashtag.
"I decided to make that the hashtag, #TheInspiringProject, to allow anybody to post something that's inspiring or uplifting," said Marvil. "It would not only go to their followers that already follow them, but it would go to the people who go to the hashtag and see all theses ones."
It started in high school, with the inspiration wall. It's earned him national recognition, being named Teenager of the Year by Kiwanis International and an MTV Trailblazer. Now in college, his messages and work still hold strong where it all began.
"We have a very diverse group and it's teaching all the students. I mean, one positive message to another student just carries on," says Kira Wager, Marvil's 11th Grade English teacher at Woodbridge High School. "Those kids, they have access all the time, and it's instant."
His estimate of over 96,000 people helped is just an estimate, and is measured by social media precense. He says his goal of helping 100,000 was set a while ago, and while he's close, he doesn't plan to stop there.
"I've always grown up to be a person who helps somebody before myself, so it's kind of just an addition to what I've always been doing. But being online and just tweeting everyday things, something you don't think makes an impact, but really does," he says.
And for all of those out there going through a rough patch, big or small, Marvil says to keep your head held high, and the good times are on the way.
"What's happening now isn't going to happen forever. A lot of people think that what's happening in this certain point in time is going to automatically just assume their future and that's not at all true."
If you would like anymore info on the Inspiring Project and how you can get involved, visit them on Facebook, Twitter or their website at theinspiringproject.com.