Former NBA player tells his addiction story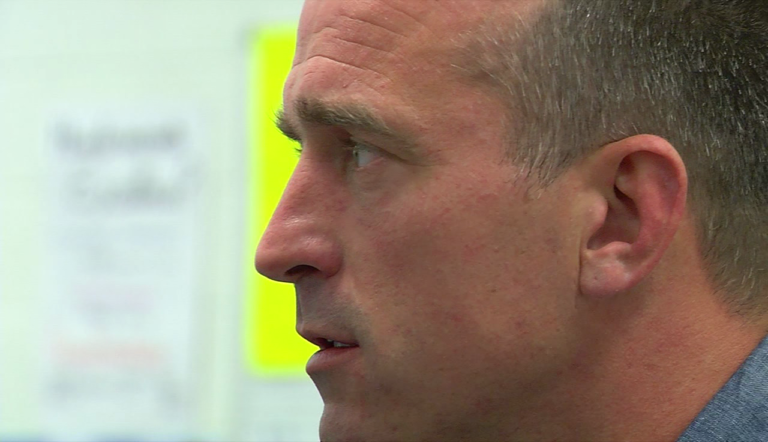 Talbot Goes Purple is continuing their stand against substance abuse, with their fight going beyond the lights downtown and workshops.
Chris Herren, a former basketball standout turned drug addict, guest spoke at Easton High School Tuesday night. It was an event that nobody wanted to miss, packing the auditorium with over a thousand people. It brought out those who want to hear the message and help prevent the loss of part of this generation.
"Like a lot of people, they have a lot of things going for them, and then all of a sudden they go down a different path. My daughter went down a different path, also. So, this is close to my heart, so I really think that he can put a message out there for the kids," says Valerie Abee, a mother who lost her daughter to substance abuse.
Addiction can happen to anyone and Herren is the prime example of someone who's using his struggle as a positive message. He was the 1994 High school basketball Player of the Year, an All-American, an NBA draft pick. But, he was also dead for 30 seconds from a drug overdose.
"Everyday was bad for me. Everyday was a bottom. For 10 years I took a chance at dying," said the Fall River, Massachusets native.
He had it all. The fame and he was a Boston kid selected by his hometown team out of Fresno State. For some, all they can dream about is putting on the green and white. For Herren, it was drugs that were consuming his thoughts.
"I was getting ready to play a game for the Celtics and I had none. My body was starting to shut down so I needed some," he said. "I made a phone call and that phone call was to deliver them to me. In order for me to get them, I had to go outside the Boston Garden."
He has been to the bottom and back. Countless arrests and a death, but he says nothing has brought him more pain than the hurt he has brought his family.
"It's Brutal, it's heartbreaking. That picture of my children standing there waiting there for me, and the excitement that they had flying cross county to see me. That's something that I'll never get back," he said when telling a story where he couldn't pick up his family from the airport because he was so high.
He's been sober for almost a decade and his addiction started at age 14, with just a beer. He's now trying to save just one person from making the same mistakes he did.
An as for society and why so many kids are experimenting, he has an idea. "I think as a society, as a culture, we've accepted that kids are going to drink and do drugs at a young age. Why? Why is it a right of passage in your teenage years to go out and get absolutely drunk in the woods? Why have we accepted that?"
Herren has shared his story for over 900 high schools, colleges and sports teams and says that he's enjoyed visiting Easton because of how much they've gotten behind the movement.
With this being the pinnacle of Talbot goes purple, organizers still want the conversation to continue after it's over. With over 2,500 overdose deaths expected to take place in Maryland, by the end of this year, police say that's far too many with resources they have available.
Once September ends, the county hopes what they've done so far will keep up, so they can prevent a tragedy.
"We'll have our clubs guide the school part of it and let the kids be in charge of part of that. In the community, we're going to keep our message. We have 30 educational messages we put out, we're going to continue to put those out," says Talbot County Sheriff and TGP leader Joe Gamble. "I've had people in the community come to me and say, 'Hey, we're all in,' we want to keep this going."
If you have anymore questions, see what events are next or want to get involved you can visit their website at talbotgoespurple.org.