Heavy backpacks could cause potential dangers to your child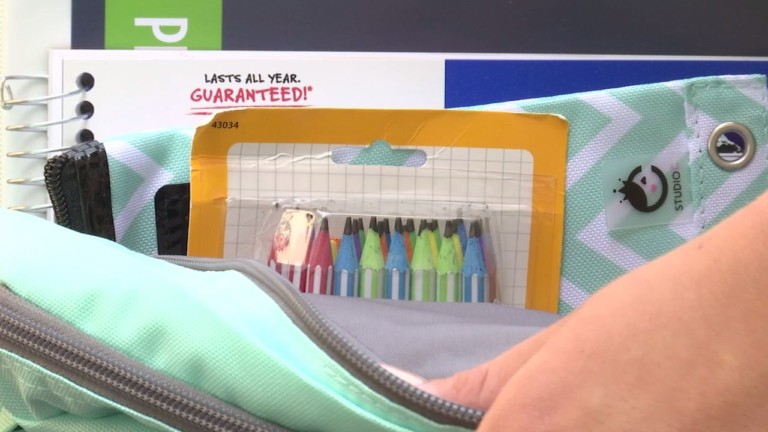 With the start of school year just around the corner, you've probably already received a back to school supply list and you've probably noticed they're pretty long.
To get those supplies from your house to school, your little scholar will have to put all those items in their backpacks. But that is where there might be a problem.
Health officials warn a heavy backpack could lead to big problems.
We are told the most growth phase for children is age 11-16, when they're more vulnerable to have problems with their spine. Adding a heavier backpack is going to cause problems with their neck, back, shoulders, and even causing scoliosis.
Children shouldn't wear a backpack that is 15% or more of their body weight.
And what's increasing those risks? Not wearing the back pack correctly.
Using both straps is key, so it doesn't cause too much stress on one side of the spine.
One school in Wicomico County wants to alleviate that problem hoping to stray away from the idea of bringing home added weight.
Fruitland Primary principal Dave Harris says, "In the elementary school we've actually gotten away from using textbooks on a regular basis and sending those text books home with students you'll find that we're using more workbooks and technology based things. Also, we're giving homework for an entire week instead of saying this day you have this homework and this day you have this homework and brining a whole set of materials, you have an opportunity to spread that out for the materials that you may actually need or to use."
Another way to make sure back packs aren't too heavy insuring a limited school supply list.
These new efforts are a great way to avoid weighing down your child so they can strictly focus on the school year ahead of them.
We are told weight distribution is also key. Back packs with multiple compartments help distribute the weight.
You should pack the heavier things low and towards the back.They also recommend shopping at a sporting goods store because employees know how to fit backpacks properly.