New Delaware bill allows for public access to opioid antidote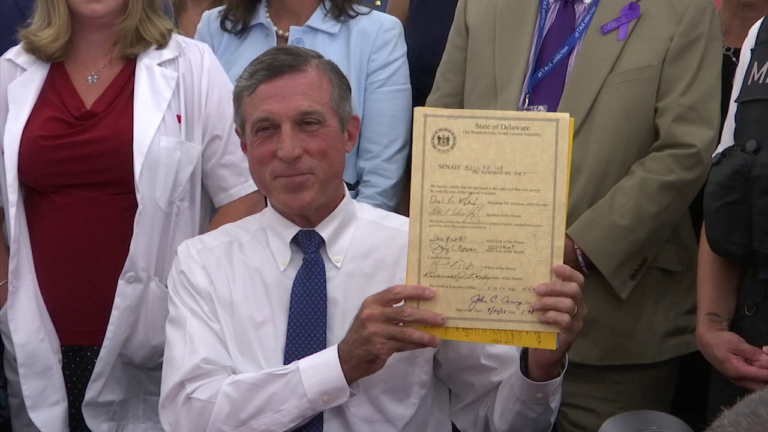 Delaware is facing an opioid epidemic.
A new bill signed Thursday hopes to decrease the number of opioid related deaths, and help those on the road to recovery.
Representative Stephanie Hansen said, "Substance abuse addiction, and particularly opioid addiction, is a monster that we do not have a handle on."
The new bill signed by Delaware governor John Carney allows for pharmacies across the state of Delaware to sell Naloxone over the counter without a prescription. Government officials said it is the first step in the right direction.
Naloxone is an antidote which reverses the effects of opioid overdose.
Governor Carney said, "This is a small tool that will help us to save lives but it's, it's more than that."
Dave Humes, director and board member of aTtAcK addiction, lost his son to an opioid overdose a little over five years ago. For him, the bill helps fulfill a promise. "The bill is very important because ever since I lost my son, and heard about Naloxone, my vow to my son was to save a life in his name," he said.
In 2016, Naloxone was administered 1,500 times. So far in 2017, it has already been administered 866 times.
Humes said, "More overdose victims die in their own home than away from their home. So that's why it's very important that people be able to have Naloxone in their homes."
Government officials said the more accessible Naloxone is, the more lives will be saved.
Governor Carney said, "It gives us another tool to save lives. When somebody's overdosing and that's the starting point, not the finishing point, obviously because we have to help individuals overcome their addiction."
Naloxone is just the first step in helping people recover from opioid addiction, but Humes said, "Where there is life, there is hope."
The bill is expected to take effect late in the summer of 2017.