UPDATE: Del. Residents protest amid abortion bill debate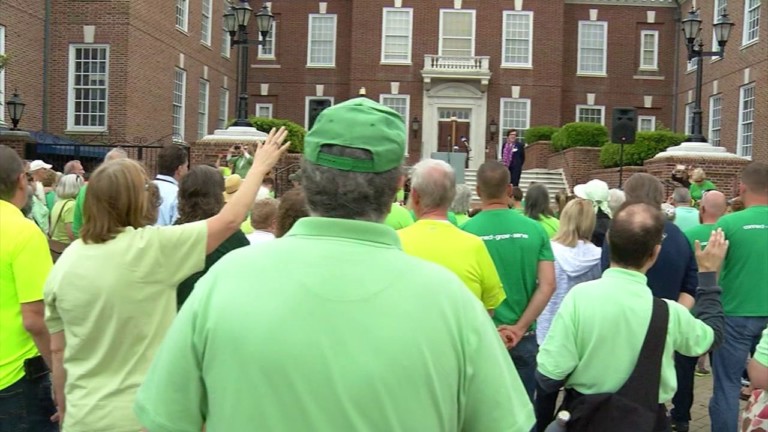 Amid ongoing debates on abortion, residents and advocates rallied Tuesday in strong opposition of Senate Bill 5.
The bill, which passed the state Senate in May and the House on Tuesday, would ensure abortion remains legal in Delaware should Roe v. Wade ever be overturned.
District 11 Senator Bryan Townsend, the primary sponsor of the bill, explains it's more reflective with what people want.
"It codifies the balance that most of the U.S. community has come to believe is a right way to approach the issue, the very difficult issue of abortion and that balances that's it's a woman right to choose right up and until a certain point and after that, most of the public believes there should be certain restrictions," explains Senator Townsend.
Other sponsors of the bill include District 15 Senator Valerie Longhurst, District 6 Representative Debra Heffernan, and District 2 Senator Margaret Rose Henry.
Despite narrowly passing in the Senate last month and passing by a House vote of 22 to 16 on Tuesday, this legislation has not come without pushback.
A rally, held Tuesday outside of Legislative Hall on Tuesday, was organized by the Delaware Family Policy council.
The current state law in Delaware allows abortions only if the mother's health is at risk, if there is a risk that the child would be born with serious disabilities, or under conditions of rape or incest; however, it is prohibited after 20 weeks of pregnancy.
Under Senate Bill 5, any restrictions on abortion would be removed before a fetus reaches viability.
Jon Sherman, a Newark resident, was one of the hundreds in the crowd on Tuesday afternoon. Wearing green as a symbol of life, he says it's important for every citizen to be involved in their government.
"When issues come up as important as the life of babies in the womb, we need to take a pause from our lives," says Sherman. "Take a break from work and come down and make sure our representatives know that they should be standing for life."
The bill now heads to Delaware Governor John Carney.