Wicomico County honors fallen heroes during 15th Annual Memorial Day Ceremony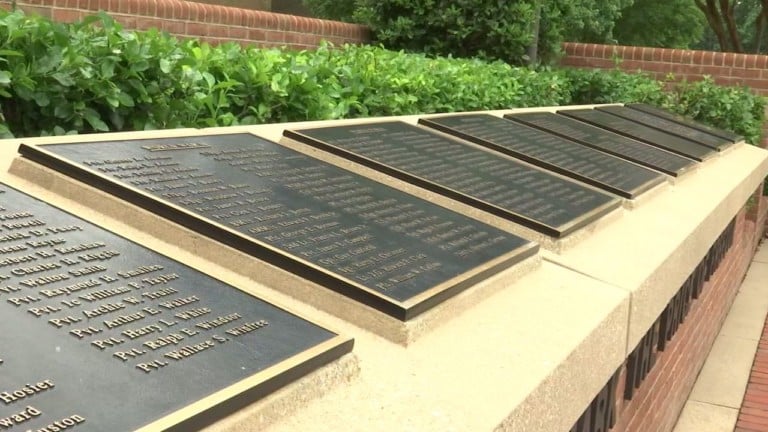 Over 190 names were read at Wicomico County's 15th Annual Memorial Day Ceremony.
Each and every single name being remembered and honored. All 191 names engraved on the memorial's bronze plaques were Wicomico County veterans who died in the line of duty.
Major General of the U.S. Army Reserves and Chairman of Wicomico War Veterans' Memorial Committee, Anthony Sarbanes tells 47 ABC, this ceremony is dedicated to every single person who made that ultimate sacrifice.
"The main purpose, the only purpose, is to read the 191 names that appear on the wall. Most of them are World War II; 109 of the 191 are World War II," Sarbanes says.
The Wicomico War Veterans' Memorial Committee started back in 2002 with a group of veterans from different branches coming together to preserve the memory of Wicomico County's fallen heroes.
And the result, plaques filled with names, which are permanently placed in front of the Wicomico Youth and Civic Center. The goal is to honor their lives forever.
We are told the memorial site was funded through donations.
47 ABC spoke to ceremony organizer Sergeant Edward Tattersall of the U.S. Army, who talked about the importance of this holiday.
"They gave the ultimate sacrifice, their life, to defend this country. A lot of them volunteered to do that. Today's army is all volunteer. They're putting their life on the line, volunteering for practically no pay."
At the ceremony, crowds of people paid tribute to our fallen heroes and the ceremony even honored those veterans that are still with us today.
The memorial is also lit at night for anyone who wants to come out and pay their respects.