Wicomico County Education Assoc. rallies for support staff to receive binding arbitration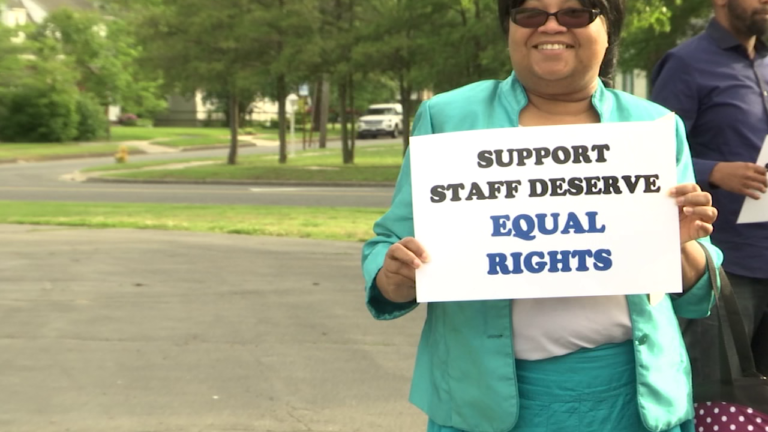 Support staff in Wicomico County are putting their foot down and letting their voice be heard.
Wicomico County Education Association, a union representing over a thousand teachers and support staff is fighting for the hundreds of educational support professionals or ESPs, in the county.
They say without them the schools wouldn't function.
County ESP, Pamela Barcley, "It's just so important. We're so important and without us the teachers really can't function because we know how to do so much."
When it comes to binding arbitration, WCEA won't take no for answer, opting instead to fight for third party resolutions for any issues that may arise.
Wicomico County teacher, Jim Ireton says, "It's important for people who help run the building custodians, cafeteria workers, secretaries, book keepers, and maintenance department people to have the same rights that all the other teachers in the county have."
Maryland State Education Association President Betty Weller agrees. She says all educators deserve to be treated fairly.
"They're the first people to see the kids in the morning, they're in the schools keeping them clean, they're in the office making things run, they're in the cafeterias making sure kids have food, they're in the classrooms helping teachers and they deserve the respect teachers do when it comes to binding arbitration."
For Barcley and the rest of the support staff, they plan on continuing the fight until their demand is met.
"We're fighting for what our right is for equal right because if the teachers have it why can't we have it."
The superintendent of Wicomico County Public Schools, Dr. Donna Hanlin did make a statement earlier last week saying she supports their right to gather.
She also says their relationship with the WCEA is collaborative and productive as they all work together on behalf of the students.