Operation We Care hits record number of care packages for US troops overseas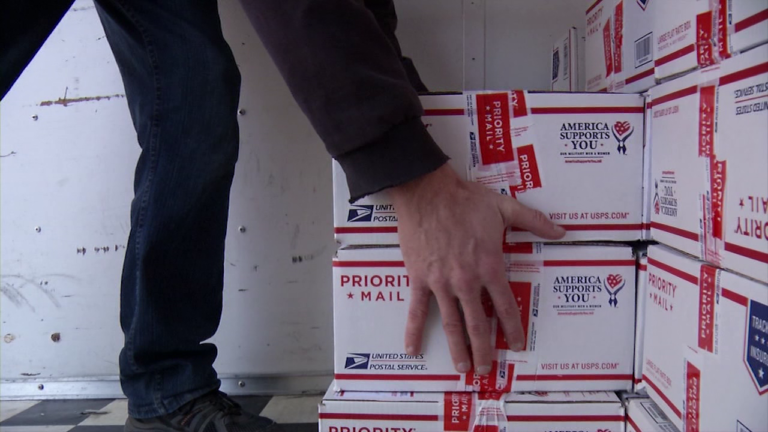 Hundreds made a trip to Sharptown today to help out Operation We Care stuff care packages to send to our troops overseas.
Item after item, people packing up boxes until its filled to the brim, full of not just essentials but a taste of home too.

"The Fishers popcorn, that was something that I've enjoyed my whole life and I was not expecting to get it so that was just overwhelming for me,' says Lcpl. Chaz Snider.
Chaz Snider, a Lance Corporal with the US Marines, is just one of thousands who's received Operation We Care packages while deployed overseas.
Although he's not only been on the receiving side, but the packing side too.
This packing party on Sunday is their biggest to date with More than 1,000 packages going to 12 different countries and a couple different ships including three Maryland National Guard units. Lcpl. Snider tells 47 ABC being able to experience both sides is incredible.
"I've done this for so long and then finally just this last season I was on the receiving end and it just made me feel really good. I was a part of this and this is how I made other people feel so that just made me feel great," explains Lcpl. Snider.
That's what Operation We Care founder Jeff Merritt says its all about, showing our troops we appreciate and miss them.
Although, he says none of it would be possible without the communities help.
"We have 30 different schools and youth groups decorate the inside of all the boxes so if you're deployed overseas and you've got kids at home that provides a little connection and they're cool little messages and drawings on the inside that kind of hit home."
Merritt says its because of the overwhelming support of the community, that Sunday's packing party has hit a record amount of packages filled.
It's all in hopes of giving the men and women risking their lives to protect our freedoms that same feeling Snider got receiving one.
"It was a really big morale booster and made everyone kind of get that 'oorah' feeling, just made everyone feel really good."
And Merritt tells 47 ABC all 1,076 packages will be shipped out Tuesday.