Dover police chief, mayor tackle shooting violence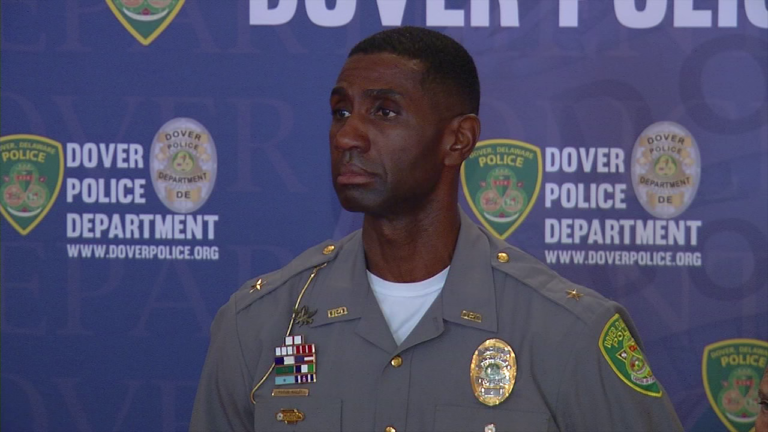 "We will have zero tolerance, let me repeat, there will be zero tolerance."
Powerful words from Dover Mayor Robin Christiansen Friday, addressing the uptick of recent shootings in the city.
One as recent as Thursday in the middle of the day on South New Street, reports of multiple shots fired at a car, breaking the front window.
Although no one was hurt, the suspect is still at large and they don't have a positive I.D.
It's these seemingly senseless acts of violence that the mayor and police Chief Marvin Mailey say needs to stop right away.

"We have come to a point in time that we will be saturating our neighborhoods that have proven to be dangerous to the city of our children and the communities in which they reside," says Mayor Christiansen.
"Our enforcement will be heavy, it will be present, it will be vigorous in the downtown area and various other areas throughout the city," explains Chief Mailey.
As of Friday morning, police reports show there were 23 shootings in the first five months of this year.
If things continue at that pace, authorities worry Dover will surpass last year's numbers, 40 shootings for all of 2016.
Chief Mailey tells 47 ABC, most if not all of this violence can be traced to gang or drug activity. He claims despite their best efforts, the police cannot solve these crimes without the community's help.
Something that has proven increasingly difficult.

"When our officers respond to shooting incidents, everyone claims they've seen nothing. It severely hurts our ability to solve crimes," he continues, " At some point when you do not share what you know when you do, not give us the information we need to solve these crimes, criminals walk free."
City leaders admit some of the reason people aren't talking is due to fear of retribution, but their plea at Friday's press conference, "see something, say something".
The areas seeing the most violence the downtown and Capital Greens communities.
"These are our neighborhoods, our homes, our town and each of us must do whatever is required of us to protect our community," says Mayor Christiansen.