UPDATE: Suspect identified in murder of Delaware State Trooper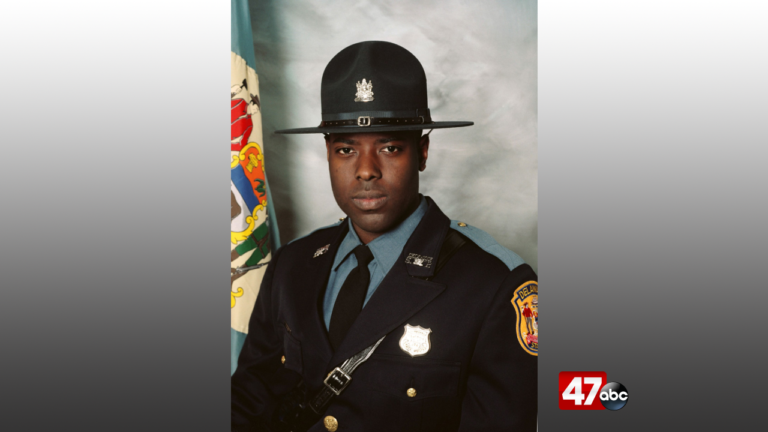 UPDATE 7: A memorial fund has been established for Cpl. Stephan Ballard's family, Delaware State Police announced.
Cpl. Ballard was 32 years old and leaves behind his wife and a 5-year-old daughter.
———
UPDATE 6: Delaware State Police have identified the suspect as 26-year-old Burgon Sealy of Middletown. The suspect was shot and killed after exiting his Middletown home with weapons and engaging police Thursday morning following a 20-hour-long standoff.
Delaware State Police said at a press conference Thursday afternoon that Cpl. Stephen Ballard had asked Sealy to step out of the passenger seat of a Dodge Charger parked at the Bear Wawa. A brief struggle ensued with Sealy producing a handgun from his waistband. Sealy reportedly shot Cpl. Ballard, then shot him several more times after Cpl. Ballard had already fallen to the ground.
Sealy then fled in a Honda, telling his family that he had just shot a trooper, officials said. Police say the family alerted police, who then tracked Sealy to his home on St. Michael's Drive in the Brick Mill Farm development.
Sealy barricaded himself within the home throughout the night, firing multiple rounds at law enforcement. At 9:17 AM, police say Sealy came out of the home armed with a weapon and was shot by law enforcement. EMS reportedly tried to revive Sealy, but he was pronounced dead at the scene.
Residents of the neighborhood who were evacuated during the standoff are now being allowed to return to their homes, officials said.
"Cpl. Ballard went to work everyday putting his life on the line to protect all of us," Gov. Carney said at Thursday's press conference. "Yesterday he gave his life performing that purpose."
———–
UPDATE 5: The barricade situation with the trooper shooting suspect in Middletown has come to an end, Delaware State Police have confirmed.
Officials say the suspect exited his home at 9:17 AM and engaged police. Law enforcement shot the suspect and he was pronounced dead on the scene.
Residents of the area remain evacuated, police said.
This story will be updated as more details arrive.
————–
UPDATE 4: Delaware State Police have been involved in a barricade situation at a Middletown home since Wednesday afternoon.
As of 8:22 Thursday morning, police have yet to enter the residence.
Around 4 AM, police say they were shot at by the suspect, who is armed with an unknown type of firearm.
Allied agencies have been on the scene and officials say that explosives have been used to breach numerous windows.
Multiple Special Operations Response Teams and Conflict Management Teams are attempting to make contact with the suspect and are continuing their efforts to persuade him to surrender.
—————–
UPDATE 3: A Delaware State Trooper gunned down outside of a Wawa in Bear Wednesday afternoon has been identified.
He is identified as Stephen J. Ballard. He was a 32-year-old Corporal with 8 and a half years experience.
As of Wednesday night, the man wanted in connection to the crime is still barricaded inside of a Middletown home.
The stand-off with police has lasted several hours, after police were able to track the man to his home in the brick Mill Farms Development.
Investigators with the State Police say that the man, who has not been identified, is armed and there have been reports that he fired at other officers.
Around 8:30 PM, the Explosives Ordinance Disposal Unit used an explosive breaching charge on the front door, but we're told no entry has been made.
Multiple Special Operations Response Teams are attempting to make contact with the individual and are trying to persuade him to surrender.
Residents have been evacuated.
Governor John Carney has expressed his condolences saying, we are indebted to law enforcement officers for their bravery and service.
Wednesday evening, Carney ordered both the U.S. and State flags to be flown at half-staff in memory of fallen Delaware State Police Corporal Stephen J. Ballard.
—-
UPDATE 2: The Delaware State Trooper who was shot Wednesday at the Wawa in Bear has died, Delaware officials confirmed at a press conference at Christiana Hospital.
Police say one of two suspects in the shooting was arrested on the scene without incident. Another suspect fled and continues to barricade himself inside his home in Middletown, officials said.
—-
UPDATE 1: Delaware State Police say that a man suspected of shooting a Delaware State Trooper at the Wawa in Bear is firing shots at police from a home in Middletown.
Troopers say that multiple agencies have responded to St. Michael's Drive at the Brick Mill Farm Development. Master Cpl. Gary Fournier says the suspect is barricaded inside his own home.
The man has reportedly refused orders to surrender and continues to shoot at police officers.
No further details are available at this time and updates will be sent out hourly, officials said.
Residents in the area are encouraged to stay in their homes and lock their doors. Brick Mill Road is currently closed between Marl Put Road and Middletown Odessa Road. Commuters are encouraged to seek alternate routes.
—-
An on-duty Delaware State Police trooper has been shot at the Wawa on U.S. Route 40 in Bear, State Police have confirmed.
The trooper was reportedly transported to Christiana Hospital. There is no word yet on the trooper's condition.
There is a large police presence on the scene with authorities from multiple agencies responding, ABC sister station WPVI reports.
As of 2:10 PM, police are reportedly searching the Middletown area for a suspect, according to 6 ABC.
This story will be updated as additional information arrives.