Hogan administration eyes new jobs initiative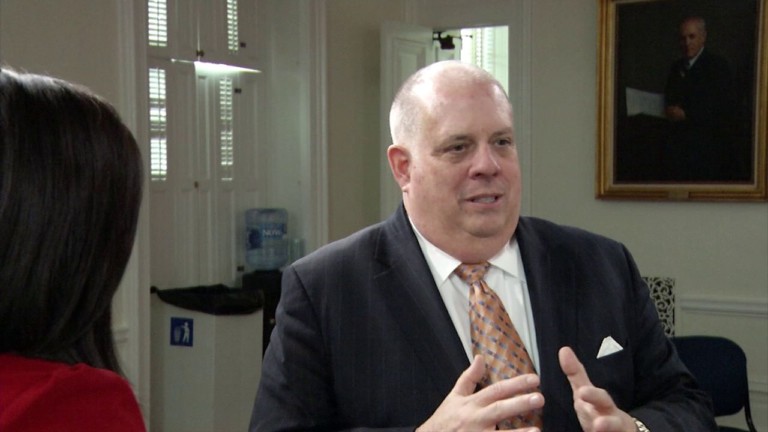 Job growth is a sign of a strengthening economy and in Maryland, Governor Larry Hogan says it's been a major priority since he took office.
While he claims hundreds of thousands of jobs have been created, he's pushing for the 2017 Maryland Jobs Initiative. At the center of the package proposal is the More Jobs for Marylanders Act.
Governor Hogan says it would eliminate all state taxes for ten years for new manufacturing employers, creating jobs in areas with high unemployment rates including some parts of the Lower Eastern Shore.
"We've added 105,000 jobs, and we've lowered our unemployment rate to 4.2 percent…much better than the rest of the country," says Hogan. "But there are a couple of places like the Lower Shore who haven't seen all of that success and who's unemployment rate is a little higher than the rest of the state."
Numbers from the Maryland Department of Labor find unemployment rates in Somerset and Wicomico Counties stand at 8.8 and 7.3 percents, respectively. The unemployment rate in Worcester County currently stands at 13.5 percent, which is standard during off-season.
According to Governor Hogan, the legislation would also include tax incentives for current employers who expand their workforce in areas with high unemployment rates.
"We're pushing hard to get it done. It's one of those things in the last week that we're hopeful, that we can get done in the House and the Senate and it's looking good, but we need people to weigh in and talk to their senators and delegates," he tells 47ABC.
Dr. Memo Diriker, founding director of the Business, Economic, and Community Outreach Network ('BEACON') at Salisbury University says incentives can help spur business growth.
However, it comes to the Lower Eastern Shore, he admits it's more natural for a business to grow from within the community rather than one coming from elsewhere.
"Delmarva Veteran Builders, for example, is a perfect example of such a business," says Dr. Diriker. "I'd rather build and grow three more Delmarva-business type businesses than bring one big from somewhere else…that at the next incentive, will move somewhere else again."
Dr. Diriker adds the entire Lower Eastern Shore economy operates differently from Central Maryland. He says businesses on the Shore are smaller in scale and a bit less resilient with agriculture being a major driver.
With the proposed initiative, Governor Hogan tells 47ABC he hopes it would bring more options for jobs.
"We need to provide multiple kinds of jobs on the shore and that's why we need some manufacturing," he says. "We need some other people to come in. Not everyone's going to be involved in the poultry industry. Not everyone's going to be involved in agriculture."
Hogan says final action on the initiative could take place this week or even up until the last day of the session. The last day of the 437th General Assembly in Maryland ends on Monday, April 10.