Using the "Dab" to teach kids how to not spread germs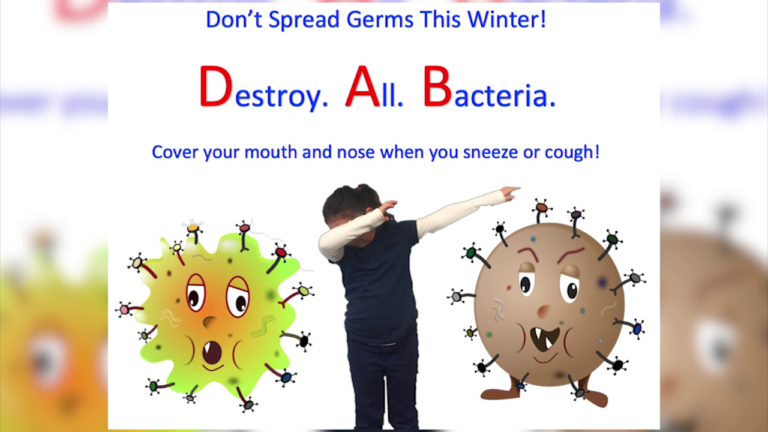 With flu season in full tilt one local teacher has found a way to teach kids to cover their mouth and nose when they cough and sneeze by using a popular dance move, the "dab".
The dab was one of the most popular dance moves in 2016 and it resembles someone sneezing or coughing into their arm.
At the Wicomico Day School gym and health teacher Melissa Safko has turned the "dab" into an acronym standing for "destroying all bacteria".
Safko said the kids would constantly dab anyway, so one day she decided to take their pictures doing the dab and turn it into a health lesson.
"I think it really helped, it helped them to understand you know more than just covering your face, it was how to do it in a fun way and it helped them to remember to cover your face when you sneeze if they got to it in what was a more popular way for them then just a tissue," Safko said.
For second grader Kaden Sample learning to do the dab wasn't a problem since he had already been doing it for a year after he saw Carolina Panthers quarterback Cam Newton do it.
"It started in first grade – I dabbed on my teacher," Sample said.
Kaden is the self-proclaimed dab king and even helped others learn to dab, but it's not just the dab that Safko is using to teach health lessons.
Safko also had posters show kids to use the dance move "the whip" to "whip your head away when some near you sneezes or coughs" and to use the dance move "the nay-nay" to "say nay nay to bacteria a reminder to wash your hands with soap and water."
According to Safko all the kids in the school have really bought in, but the second graders and sixth graders have shown the most enthusiasm.