Gov. Larry Hogan: "Together, we can and we must do more."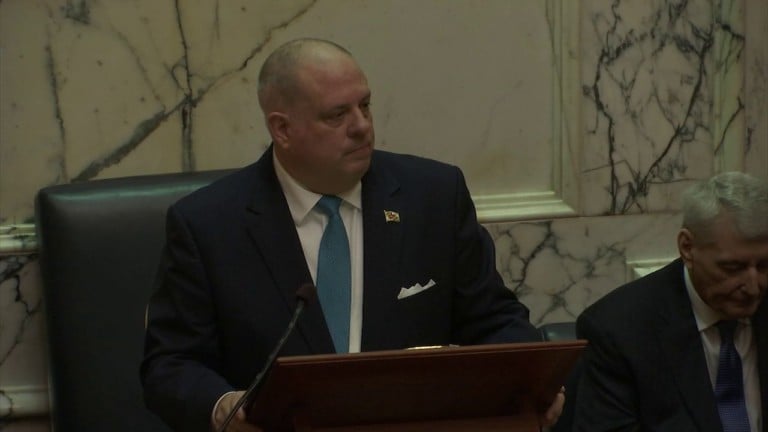 In a packed House Chamber on Wednesday in Annapolis, lawmakers and guests watched as 62nd Maryland Governor Larry Hogan delivered the State of the State speech.
The speech carried a common, recurring theme.
"We've already accomplished a great deal but together, we can and we must do more," Governor Hogan said.
Hogan says the state is at its strongest in years.
According to the republican governor, 73,000 jobs have been added. The unemployment rate is at 4.2 percent, just below the national average at 4.7 percent.
"We rank third in the country in entrepreneurial job growth, business growth and our state has the second lowest percentage of people living below the poverty rate in the nation," says Hogan.
He admits not every part of the state has seen the same growth, including the Lower Eastern Shore.
47ABC caught up with District 38B Delegate Carl Anderton, Jr., who tells us he believes more incentives need to be added to encourage more businesses to come.
Delegate Anderton explains it's about being tax friendly and knowing how to promote the shore's assets.
"With the new administration coming in D.C., if they look to expand in the military, we have a lot of businesses that have started up that deal with buying harnesses for helicopters," he says. "So, that's a real opportunity for expansion."
It's issues from the Trump administration Hogan did not address Wednesday that has Senator Richard Madaleno concerned.
The District 18 Democratic Senator calls the State of the State address Hogan's "highest profile platform".
"That's the repeal of the Affordable Care Act, which eliminates health insurance for up to five hundred thousand Marylanders and 52,000 jobs across the state wiping out almost all of the job growth he took credit for today," explains Senator Madaleno.
Moving forward, lawmakers on both ends of the aisle that 47ABC spoke to say that they are confident progress will be made throughout this legislative, but it will not be done without a lot of work.
32 specific initiatives were named during the speech by Governor Hogan.