Coast Guard Silver Lifesaving Medal ceremony held at Indian River Inlet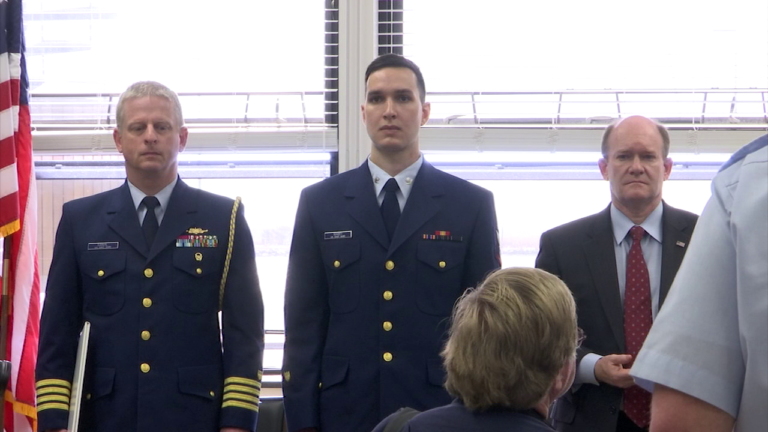 The Silver Lifesaving Medal is a prestigious award that can be given to a either a civilian or a member of the military.
It was created in the 1860s to award members for rescues that perform a selfless act of heroism, often placing themselves in danger for the benefit of someone else.
Only 1,900 of these awards have been given and it is the second highest honor that a coast guard can receive.
Among those who have received this award is fleet admiral Chester Nimitz, who led the Allied naval forces to victory in the Pacific in World War II.
The process to receive this award takes multiple interviews and testimonials, along with thorough reviews.
The medal itself is unique as it is pure silver and it is one of the only medals that is actually made out of precious medal.
And Petty Officer 3rd Class Caleb Mabry was awarded the US Coast Guard Silver Lifesaving Medal Friday morning.
Senator Chris Coons was on hand to present the medal to Mabry at the Indian River Coast Guard Station.
In June 2015 while stationed at Cape Charles in Virginia, Mabry swam into strong currents in an effort to save two drowning teens. With the help of a good Samaritan one of the teenagers was saved while the other succumbed to drowning.
The award was created in the mid-1800s, and its winners include General George S. Patton and Fleet Admiral Chester Nimitz.
"It's surreal to be awarded something like this, to be recognized in the same category as General Patton," said Mabry. "It's a total honor to be awarded such a prestigious medal… I like to think that any good Coast Guards, or good Samaritan for that matter, would have done the same thing that day that I did."
At the time of the event, the North Carolina native was between surgeries resulting from a snowboarding accident in February that year. Mabry broke his tibia and fibula along with tearing three knee ligaments. He says though he was on crutches that did not faze him.
"It was definitely pure adrenaline that kept me going into the water, and I was still on crutches at the time and still managed to walk/swim all the way out to rescue them and bring them back."
Emily and Chuck Mabry were in attendance. Emily says her boy was always into athletics, bodybuilding, and staying in shape making it an easy transition into the Coast Guard. But she says she never saw this coming.
"I was contemplating about this a little bit earlier today thinking that 26 years ago he was six weeks old. Never had any idea that anything like this would happen. Just very, very proud. Very thankful."
Officer Mabry is currently stationed in Lewes.