Carney begins task of tackling Delaware's budget deficit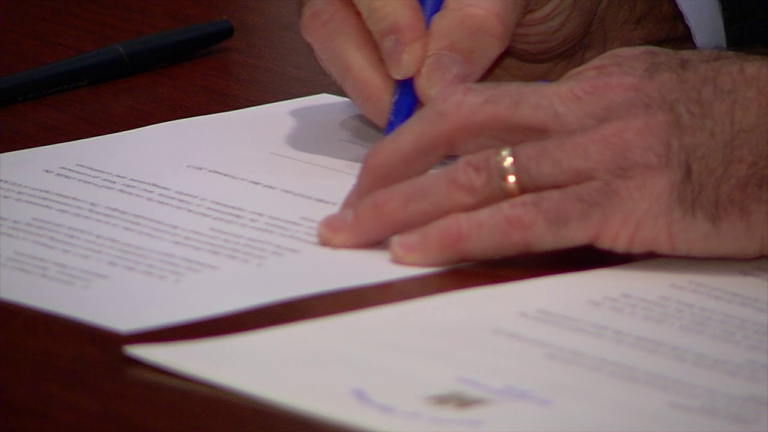 With the prospect of Delaware's budget deficit expanding to a projected $350 million in 2017, Governor John Carney (D) went to work trying to tackle the fiscal problem.
Executive Order Four was signed Thursday establishing a 10 member committee named GEAR, or Government Efficiency and Accountability Review. The goal of the board is to cut down on wasteful spending, especially in health care, while providing more efficient services.
"State revenues are growing with the rate of the economy," said Carney. "GDP, which is about 2 percent, 2.5 percent, but our expenses are growing at a faster rate. And that's the phenomenon that's been happening for the last eight years."
With a new administration, Carney feels now is the perfect time for fresh eyes to look over the budget. He added that there has been productive dialogue and ideas thrown around, such as consolidating school districts.
"One (example) was, and this was not a new one, consolidating school districts. And one of the things I'm really interested in is, as maybe a first step, is consolidating back office operations in the school districts."
The approach used by the Governor was met with praise from the House minority leader, Republican Danny Short.
"I think today is a new day. We have a new Governor, we're starting off with the same budgetary problem we had eight years ago, and I'm here to say we're here to support you Governor, Lieutenant Governor and all the members of this executive order today."
One other idea floated around was a lower level sales tax, an idea Carney says is more than likely not in the cards.
"I feel like it's something most people don't support. It's one of the things that makes us specials and unique. I think it certainly would be one of the last things that people would go to if they considered those things."
The board is considered a permanent entity that will be required to give recommendation reports with set deadlines to the governor. An annual December 1 report will be submitted that may be included in the state budget. Recommendations may include ways that state government agencies can share services, and new methods for improving the recruitment, development and retention of state employees.
The Director of the Office of Management and Budget and the Secretary of Finance will hand in annual reports by May 1, including recommendations for the General Assembly's Joint Finance Committee to review as its members finalize the Fiscal Year 2018 state budget.