Local marching band to perform during Sugar Bowl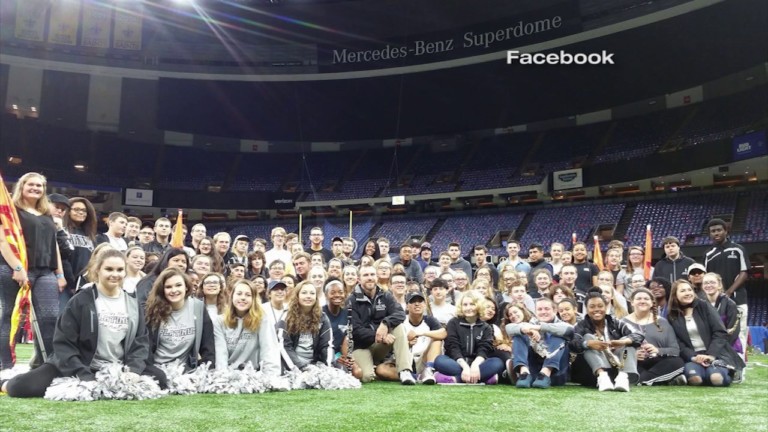 Monday night, millions will be tuning in to watch Oklahoma take on Auburn for the Sugar Bowl, but this year folks on Delmarva might want to watch a little closer. That's because they have the chance to see some familiar faces, especially during half-time.
Those familiar faces are the members of the Sussex Tech High School marching band known as 'Raven Nation'.
The marching band arrived in New Orleans this past Thursday and they are now getting ready to join other schools for a half-time performance Monday night.
Raven Nation is 1 of 15 bands chosen to perform during the Sugar Bowl's half-time. Ian Kenney, Sussex Tech's Band Director, tells us this opportunity is due to the band's success.
"I knew the band had traveled all over the country. Doing performances in Pearl Harbor, the Indy 500, the McDonalds thanksgiving parade in Chicago," says Kenney.
Kenney says he wanted Raven Nation to continue reaching new heights, so about two years ago he got in touch with World Strides, a performing arts company that has connections to major sporting events. After the company reviewed their previous performances and awards they determined the band was qualified to perform at the Sugar Bowl.
This past year the marching band has been doing fundraisers to make the trip to New Orleans more affordable, but Kenney admits getting 103 band members and dozens of instruments to New Orleans was not an easy task.
"We had all the instruments and equipment packed into a boxcar and we had our husband of our dance team coach drive down to New Orleans to Delaware. The rest of us band members, chaperones, staff we flew. We had to take three separate flight," says Kenney.
The past few days Raven Nation has been practicing numerous hours with hundreds of musicians and dancers for their synchronized half-time performance, but Kenney tell us they've had some down time to take in NOLA's culture.
"The experience of being out of Delaware, being in a different part of the country; getting to see what other bands are doing around the country. Getting a chance to perform in one of the most iconic stadiums really in the entire country, the kids can go and say, 'hey I performed in an NFL stadium before,'" says Kenney.
Folks can catch Raven Nation performing at the Sugar Bowl's half- time on Monday. The game will start at 8:30 PM on ESPN
There was also competition portion amongst the 15 marching bands. Although Raven Nation did not win the championship award, we're told they've won best music, best drum major, best percussion, among other awards too.