Over 100 people gathered for a vigil to remember the last lynching in Salisbury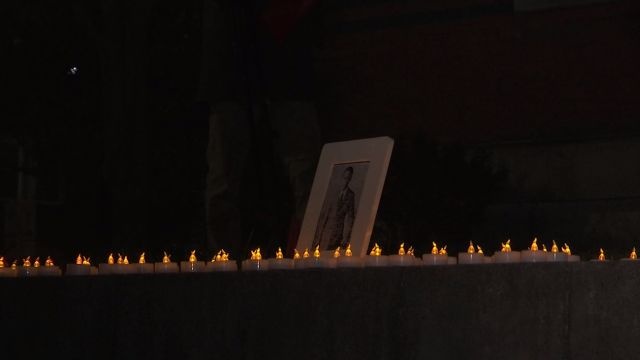 Over 100 people gathered across the street from PRMC with lit candles to remember the last lynching that took place in Salisbury.
85 years ago, Matthew Williams was suspected of shooting his white employer, Daniel Elliot. But Williams himself was wounded and taken to PRMC.
A few hours later he was dragged from the hospital from a large group of white men as they brought him to the courthouse lawn and hung him there in front of a crowd of a thousand people at least.
After that, they dragged his body throughout the town and tied him to a lamp post, dosed him with gasoline and set him on fire.
Event organizer James Yamakawa, runs the group Showing Up for Racial Justice Delmarva. The event started near the hospital and everyone traveled the route where the lynching took place. Making the courthouse the final stop.
The Fenix Youth Project Executive Director tells us the event was an amazing turn out for the simple fact that a lot of people of different ages, different races, different diversities came together to remember the city's past and to look forward towards the future.
At the end of the event, one woman spoke up who says her mother was a Salisbury native and was 10-years-old when the lynching occurred. Pamela Hart says the lynching touched her heart so deeply that it changed who she was and she realized how harmful, it was to be prejudice against someone because of their color.
Mayor Jake Day was also among the crowd. Mayor Day said he wasn't at the event because of his position, but he was there for humanity.
Yamakawa says he's hopeful seeing the turnout but believes now we as a community need to take action.
Yamakawa states, "People were out there but like what matters now, is what happens now? I mean,  you can go to a rally, you can go to a vigil, you can say like that one gentlemen was saying that this was horrible but what you do afterwards that matters and we have to come together."