Crisfield adds a unique twist to their ball drop on New Year's Eve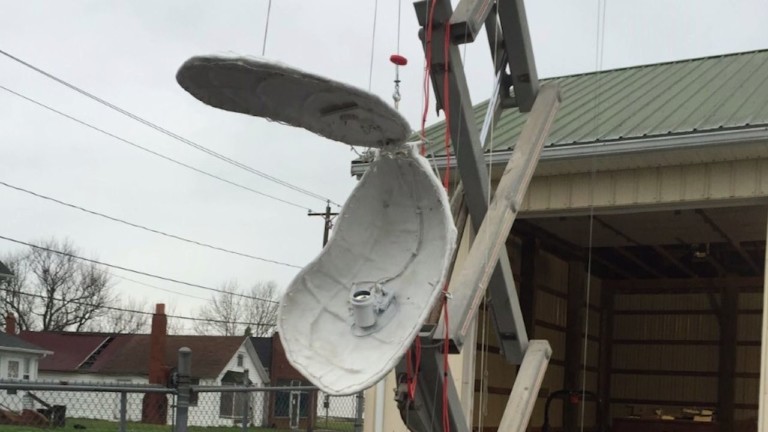 As 2017 is about to strike, different cities around the country are putting a unique twist to their ball drops to bring in the new year.
In Wisconsin they are dropping cheese. In North Carolina, they are dropping a pickle.
And the Eastern Shore is no exception to this.
Princess Anne is dropping a muskrat to mark the new year and Cambridge is dropping a boat.
As it turns out the city of Crisfield is also joining in on the festivities by dropping an oyster.
The manmade oyster stands about five feet tall, a symbol of the town of Crisfield's well-known watermen.
Event organizer Adam Thompson tells 47 ABC that it was a family effort to create this oyster.
And with marking the events' third year comes major improvements. The oyster is bigger and they even utilized Chesapeake boats that did all the fiber glass on it.
At the end, the oyster will open up as the pearl inside will be shining out as a mirrored disco ball.
But it's not just bringing people together, it's also bringing in funds.
Water's Edge café Owner Mary Nelson tells us Crisfield used to be a booming town, notorious for its seafood.
But due to the devastation of Superstorm Sandy years back, businesses have been trying to rebuild.
Nelson and her husband opened their own restaurant three years ago.
They say the more people that come out to support the oyster drop, the better it will be for their recovery efforts.
Nelson tells us that this type of event brings in visitors into their town. As visitors trickle in, they will most likely need gas or even food items, leading to business sales. And most importantly it's about the exposure.
In the first year of the oyster drop, they saw about 50 people.
In the second year, they saw a couple hundred people. And for their third year this year, they are hoping for even more.
Nelson tells us they are hoping for even more this year and says, "This is a way for us to celebrate our new year, our new beginnings as a town."
We are told they are hoping to make this event even bigger next year. They hope to plan vendors, tends, and even a live band.