Camp Rehoboth participates in World AIDS Day to bring the community together to find a cure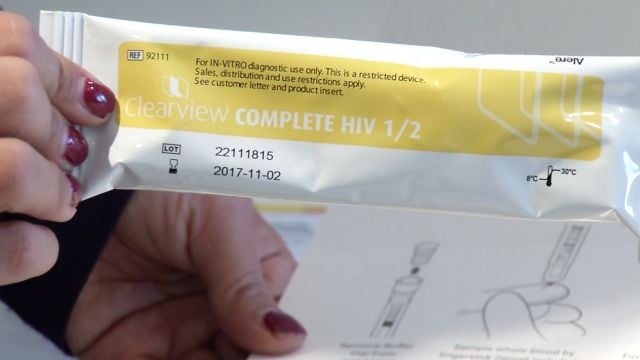 December 1, 2016 is World AIDS day and it's the 29th anniversary of this global event.
The movement strives to unite people in the fight against HIV/AIDS and honor those have died with this disease.
47 ABC was at Camp Rehoboth on World AIDS Day to talk about local efforts to participate in this world-wide effort.
One little testing tube that pricks your finger determines if you have HIV. In a matter of 15 minutes, your entire world can change. But knowing you have it, can do a world of good by helping stop the disease from spreading.
Camp Rehoboth's health and wellness program coordinator, Sal Seley, says everyone should know their status, if they are not in a monogamous relationship or if one is in a relationship with multiple partners. It's important to know your status to protect your health, but also protecting the health of your sex partners.
In the state of Delaware, more than 3,3000 people have been diagnosed with HIV or AIDS.
The CDC estimates they may be about 350 people, who may be infected, but don't know it.
Seley  tells us they offer free HIV testing year round, as well as hosting an HIV prevention program.
If anyone is diagnosed positive after their exam, Camp Rehoboth links them to care within a half hour of the initial diagnosis.
Besides helping folks with diagnosis and connecting them with HIV wellness clinics, Camp Rehoboth can set people up with support groups.
The support groups are available for the newly diagnosed or for long term survivors.
And we're told a big factor for those who are newly diagnosed is the cost for treatments.
Those who do not have insurance may be pay thousands of dollars out of pocket.
Seley says ADAP and the Ryan White Program will basically cover all of the expenses so you are only paying maybe a $4 prescription instead of a $1,000-$2,000 bill.
ADAP known as AIDS Drug Assistance Program provides FDA approved medications to low-income people living with HIV who have limited or no health coverage.
But the folks at Camp Rehoboth make it clear they offer prevention and support services.
And on World AIDS day, they're also spreading the message of hope to come together to find a cure for HIV/AIDS.
Camp Rehoboth had a candlelight walk and vigil to honor those who have passed away due to HIV/AIDS.