Wildcats capture elusive field hockey championship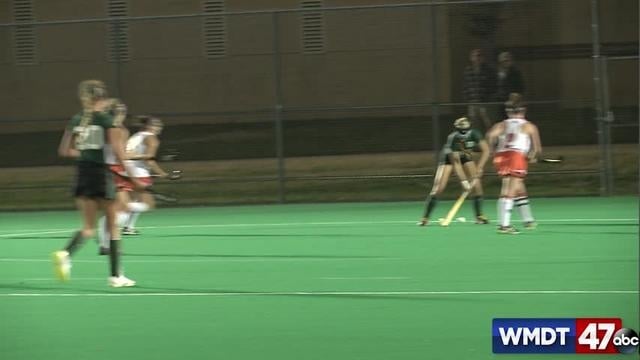 For the first time in school history, the Delmar Wildcats field hockey team can call themselves state champions. They defeated Tower Hill 3-0 on Friday night in Rullo Stadium on the campus of the University of Delaware.
Delmar got off to a quick start when junior attack Peyton Kemp sent a back-handed shot thru the middle of the Hillers defense and past keeper Emerson McCauley. Kemp would prove to be a thorn in the side of Tower all game long.
Midway through the first half, Kemp found herself the recipient of a breakaway ball sent by the defense, and weaved her way thru traffic to find teammate Morgan Fletcher streaking in front of goal, where Fletcher got just enough stuck on it to send home another score.
After taking a 2-0 lead into half, the Wildcats defense would be tested early, turning away many Tower Hill advances. After trading shots on goal, Delmar would begin to find their footing on offense once again.
After a string push, the 'Cats would force back to back penalty corners. Senior Caitlyn Wink would send the corner to Kemp, who once again sent a perfect pass back the way of Wink, who laid a stick on it to give the Wildcats a 3-0 lead with just over 18 minutes remaining in the match.
Over the final stretch of the second half, the Delmar defense turned away more Tower tries, with goalkeeper Madison Blewitt anchoring down the lines to preserve the shutout.
"We made history" said Delmar head coach Jodi Hollamon after her teams historic victory. "What makes me most proud is that this team stepped on the field, and played the most amazing field hockey game I've ever seen for a high school team."
The historic win could be a sign of things to come for Delmar. With just two seniors on their entire roster, the Wildcats will go into next season locked and loaded to defend their title.